Showcase Your Organization
More than 20,000 scientists from around the globe will gather in Chicago and online for the AGU Fall Meeting to connect with colleagues, broaden their knowledge base, learn about new products and services, and share their passion for science.
Secure a booth to join this group of scientists and decision-makers from more than 100 countries in this bustling center for science solutions and align your organization with a community working to better the Earth for a sustainable future.
Fall Meeting is your opportunity to gain customers, recruit potential employees, and have your brand, product, or service in front of the world's largest convening of Earth and space scientists.
The exhibit hall will showcase companies displaying products and services from all facets of the industry, including:
Academic University/Institution
All-Terrain Vehicles/Research Vehicles
Computer Software
Data Management Services
Equipment/Instrumentation
Field Equipment and Outdoor Gear
Geophysical Services
Government Agency
Machine Learning and Artificial Intelligence
Modeling System
Secure Your Participation!
Don't miss your chance to showcase your brand at Fall Meeting. View the floor plan and select your booth today!
Reserve Now
Exhibiting provides your organization the opportunity to:
Launch and demo your new products in an interactive selling environment
Share your research and exchange information with an interested and qualified audience
Meet face-to-face with current and prospective customers
Generate new leads
Recruit top job candidates
Explore both national and international business opportunities
Be part of the industry's premier exposition while supporting the work of Earth and space scientists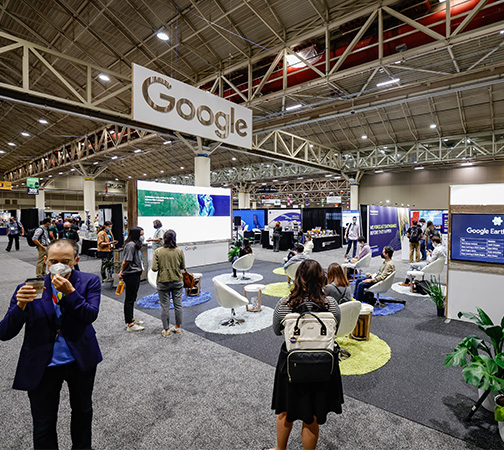 Move-In
Sunday, 8:00 AM - 5:00 PM
Monday, 8:00 AM - 12:00 PM
All exhibits MUST be set by 12:00 PM on Monday, 12 December.
Show Hours
New times coming soon for Monday through Thursday expo hours!
*schedule is subject to change
Per 10'x10' booth USD
| | |
| --- | --- |
| Standard | $3,200 |
| Government/Non-Profit* | $1,950 |
| Academic Showcase* | $1,950 |
| Each exposed corner | $150 |
* Only one booth can be purchased at this rate. Additional booths will be charged at the Standard Rates.
Government/Non-Profit - Related to Earth and space sciences; non-profit consortia of educational institutions, not-for-profit consortia of research institutions, not-for-profit research institutions, not-for-profit publishers, 501(c)(3) organizations, scientific and engineering open-membership societies.
Academic Showcase - A pavilion in the exhibit hall for academic institutions to meet prospective students and highlight your academic offerings. Includes carpet, table, two chairs, and a wastebasket.
Terms of Payment:
A deposit of 50% of the total fee for the exhibit space is due with each application submitted prior to 26 August 2022. Applications received without such payment will not be processed.
The balance of the exhibit space fee is due on or before 26 August 2022. Applications submitted after 26 August 2022 must be accompanied by payment in full.
Cancellations received prior to 26 August 2022 will be refunded 25% of the value of the space being vacated. Refunds are non-transferable. No refunds will be issued for booth cancellations after 26 August 2022. All cancellations and requests must be in writing. Reduction of booth space, at any time, may result in the relocation of an exhibit.
What's Included with your Space
All booths include:
8' high drape, 3' high side rail drape
One (1) complimentary Full Conference registration per 10'x10' booth
3 Booth Personnel (access to exhibit hall only) registrations per 10'x10' booth
One (1) 7'x44' ID sign (company name and booth number)
Company name and profile on the AGU Fall Meeting event app and virtual platform
In addition to the above, Academic Showcase booths include:
Carpet
One (1) 6' draped table
2 side chairs
One (1) wastebasket
Innovation & Exploration Zone
Does your organization have a game-changing solution or an emerging technology to share with Fall Meeting attendees? This engaging area in the exhibit hall is dedicated to showcasing companies who are transforming and accelerating both discovery and solution-based science. We invite companies, whether in the start-up stage or well-established, doing this exciting work to apply for a space in the Innovation & Exploration Zone.
Pricing and complete details on a branded kiosk in the Innovation & Exploration Zone are coming soon. Contact Scott Brewster to be the first to learn more!
Additional Exhibiting Opportunities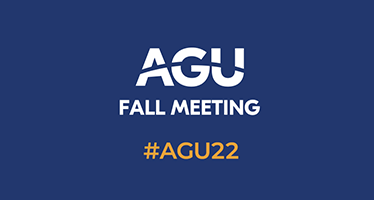 Scott Brewster
Fall Meeting Sales Associate, Corcoran Expositions
312.265.9640 | [email protected]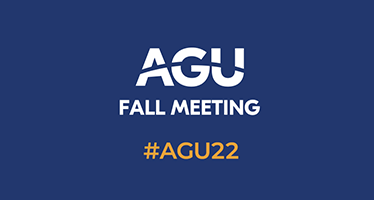 Dan Corcoran
Fall Meeting Exhibit Manager, Corcoran Expositions
312.265.9635 | [email protected]