Earth and Planetary Surface Processes Awardees
G. K. Gilbert Award in Surface Processes
Yehouda Enzel
The Hebrew University of Jerusalem
Citation
As a prominent and broadly recognized Quaternary geologist, Yehouda Enzel's expertise includes fluvial geomorphology, neotectonics, limnology, hydrology, sedimentology, and paleoclimatology. Linking these different fields of expertise is a basic concept that Yehouda has been applying throughout his prolific career, with a special focus on how geological processes interact in shaping desert landscapes under variable climate forcing and how to use geological records in reconstructing paleoclimate and climate change appropriately. To address these first-order fundamental questions, he combines his deep knowledge in a wide range of fields with his unparalleled ability to collaborate with experts in related fields. This interdisciplinary approach opened new scientific frontiers in the research of paleoclimate and has significantly advanced the Earth science research community in understanding floods and paleofloods, sea level and lake level regressions, and transgression processes associated with climate change and landscape evolution. This highly interdisciplinary and well-funded research has been documented in more than 180 published papers and three major books, including the authoritative Quaternary of the Levant: Environments, Climate Change, and Humans (Cambridge University Press, 2017).
Yehouda is highly visible internationally; nearly all his research has involved highly productive collaborations with numerous researchers from across the globe. He has worked closely with scientists and students from the United States, Israel, Spain, Italy, India, Namibia, Australia, Germany, and the United Kingdom. He is a perfect facilitator of these collaborations, involving a great many young researchers representing ethic, gender, and cultural diversity. He has been very active in multiple scientific societies (AGU, European Geosciences Union, Geological Society of America, International Union for Quaternary Research, and the British Society for Geomorphology), serving on important committees, panels, special sessions, and editorial boards for many of these organizations worldwide. Through multiple visiting appointments, invited lectures, and research campaigns, he has exemplified the very best in Earth process science. As head of environmental studies (2006–2011) and chair of the Institute of Earth Sciences, Hebrew University of Jerusalem (2015–2019), Yehouda has led one of the world's top Earth science educational organizations. His 45 graduate M.Sc. and Ph.D. students are making major contributions to Earth surface process studies, and generations of his students are themselves now leading excellent research groups in academic institutes in Israel and worldwide. With his scholarly breadth, interest, wide knowledge, scientific enthusiasm, curiosity, and original ideas, Yehouda Enzel continues G. K Gilbert's scientific approach in advancing desert geomorphology and quantitative geomorphology in its wide and holistic sense.
— Rivka Amit, Geological Survey of Israel, Jerusalem
Response
Thank you, Rivka. I am deeply honored and humbled to join the esteemed past recipients of this award and to be the first person from outside North America to receive it. Gilbert's seminal writings influenced me long before I first stepped on U.S. soil.
As a teenager visiting the hyperarid Sinai Peninsula, a group of geologists I met by chance kindled my interest in Earth sciences, a field I knew nothing about. I later enrolled in the Hebrew University where Aaron Yair, Asher Schick, Ran Gerson, and Dan Yaalon instilled in us the importance of field-based observation and measurements; they were giants in research, although, without perspective, I did not know it then. They and overseas visitors, including Luna Leopold, Reds Wolman, and Bill Bull, drew me into Earth surface processes and arid regions with their enthusiasm, knowledge, and experience. I have to tell you, it had my father worried. He asked, "What are you going to eat—stones?" (Subtext: Can't you become a doctor?)
My close colleagues, too, have had tremendous impact on my research, first among them Rivka Amit, my research partner and dear friend. Currently facing difficult times, Rivka and her wonderful family are in my thoughts. I thank her and my former students for nominating me, along with the conspiring others. (I have my suspicions…thank you!)
It took time for me to realize the cumulative impact mentors, peers, colleagues, and students had on my career. I enjoyed their generosity in sharing ideas, time, and joint research. The long journey was fun, but it was also so much more. I was a doctoral student in New Mexico, a postdoc in Arizona, and returned as a professor to my alma mater in Jerusalem. Along the way I accumulated colleagues, friends, and research partners for life. I owe my career to several mentors: Steve Wells, Roger Anderson, Vic Baker, and other remarkable scholars I met in their labs. They opened doors and overturned rocks to reveal this fascinating field. Working in Israel and elsewhere, and during sabbaticals in Seattle, Sydney, Reno, Florence, and currently Athens, I have met great researchers who enrich my thinking. And above all, I am immensely proud of my truly outstanding group of students; I try to share with them the kindness I experienced.
Lisa, my loving wife and partner in the past 30 years, was exceptionally supportive, allowing me to run around the world while our sons Uri and Omer were growing up, and growing into exceptional young men. My achievements are theirs.
—Yehouda Enzel, Hebrew University of Jerusalem, Jerusalem
Field Photos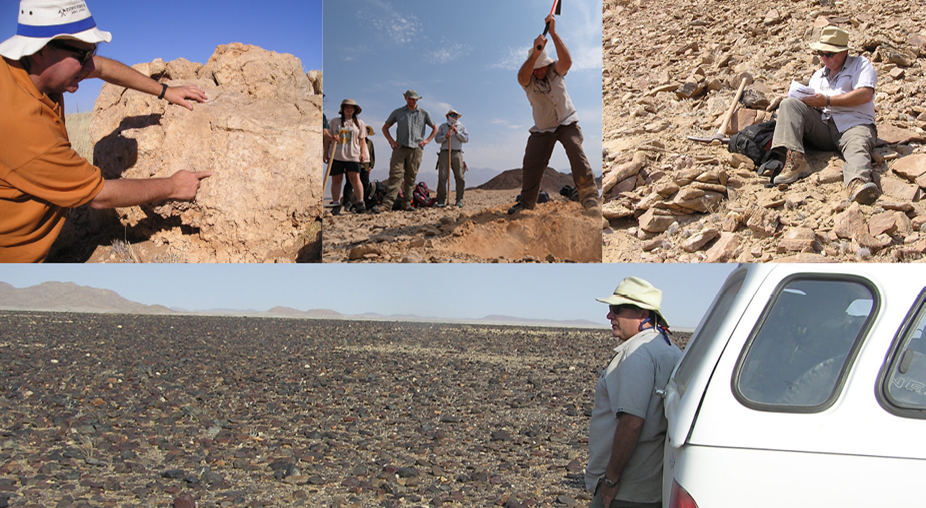 Luna B. Leopold Early Career Award
Seulgi Moon
University of California, Los Angeles
Citation
It is my great pleasure to introduce Prof. Seulgi Moon as the recipient of the 2022 Luna B. Leopold Early Career Award. In her short career, Prof. Moon has already made several seminal contributions to the current understanding of landscape evolution and surface processes on Earth and other solar system bodies. These contributions reflect her innovative integration of fundamental physics and chemistry, numerical modeling, and state-of-the-art laboratory techniques. First, she has elucidated local, regional, and global budgets of silica weathering. Second, she assessed the interactive and coupled effects of tectonics, climate, topography, and lithology on fluvial and glacial erosion and transport in active orogenic systems. Third, she quantified the impact of topography-induced stresses on physical weathering processes. The latter research subject is specifically relevant regarding current efforts to determine the nature and evolution of the critical zone that supports surface and near-surface biological activity on our planet. In addition to her work on the Earth, Prof. Moon has also made significant contributions to planetary studies including the formation of cold traps on (her namesake body) the Moon and fluvial fans on the Saturnian icy-satellite Titan. Her research also provides, for the first time, a quantitative linkage between engineering-based site parameters and attributes of morphological features. Finally, Prof. Moon and her colleagues developed a new Quaternary dating method using optically stimulated luminescence (OSL) methods. Her exceptional mentoring record and her contribution to broadening the participation of students from underrepresented social groups illustrate her full dimension as a leader in the Earth and planetary science community. It is with all of the above achievements that I present to you this year's recipient of the AGU Luna B. Leopold Early Career Award.
—An Yin, Department of Earth, Planetary, and Space Sciences, University of California, Los Angeles
Response
I am deeply honored to receive the Luna B. Leopold Early Career Award. This award will be a constant reminder for me to be like Luna B. Leopold, who was a quantitative, creative, and inspiring geomorphologist. As a young girl who grew up on a small farm in South Korea, I was fascinated by natural environments. I dreamed about becoming a scientist but never imagined I would receive this prestigious award. I would like to thank An Yin for the generous citation and Taylor Perron, Efi Foufoula-Georgiou, Kelin Whipple, and Bill Dietrich for supporting the nomination.
Like Luna, I enjoyed collaborations with scientists from the diverse research fields of geomorphology, geochemistry, geophysics, hydrology, rock mechanics, and critical zone sciences. These collaborations allowed me to appreciate the beauty of interdisciplinary studies on Earth's surface, seek a comprehensive understanding of surface and subsurface processes, and investigate measurable interactions and consequences of those processes in various landscapes. I share this award with my mentors, colleagues, and collaborators who contributed to my scientific growth.
I would like to especially thank my graduate adviser, George Hilley, at Stanford University and postdoc adviser, Taylor Perron, at Massachusetts Institute of Technology, who have significantly affected my career. George guided me through multiple research projects on weathering and erosion processes. He generously and patiently taught me how to develop testable scientific hypotheses, connect field observations to numerical models, and perform rigorous quantitative analysis. Taylor provided me with guidance, support, and inspiration to explore the connections among surface topography, subsurface stress, and bedrock fracturing. I am also grateful for my graduate advisers, YoungSook Huh at Seoul National University and Page Chamberlain at Stanford, who guided my research on chemical weathering in rivers during my early years.
My mentors and colleagues helped broaden my research horizons. I would also like to thank Steve Holbrook and Cliff Riebe for guiding me through integrating geophysical and geomorphic techniques; Steve Martel for discussing rock mechanics; the critical zone community including Suzanne Anderson, Sue Brantley, Bill Dietrich, and Team Bedrock for field measurements and comprehensive analysis; and Brad Goodfellow, Diego Mas Ivars, Gen Li, Nathan Brown, and Eitan Shelef for insightful discussions. In the past years, my colleagues, postdocs, and students at the University of California, Los Angeles have provided me an intellectually vibrant environment. I would like to give thanks to An Yin, Kenzie Day, David Paige, Jonathan Mitchell, and others who introduced me to planetary surface studies. Last, I thank my friends and family for their continuing support.
—Seulgi Moon, Department of Earth, Planetary, and Space Sciences, University of California, Los Angeles
Field Photos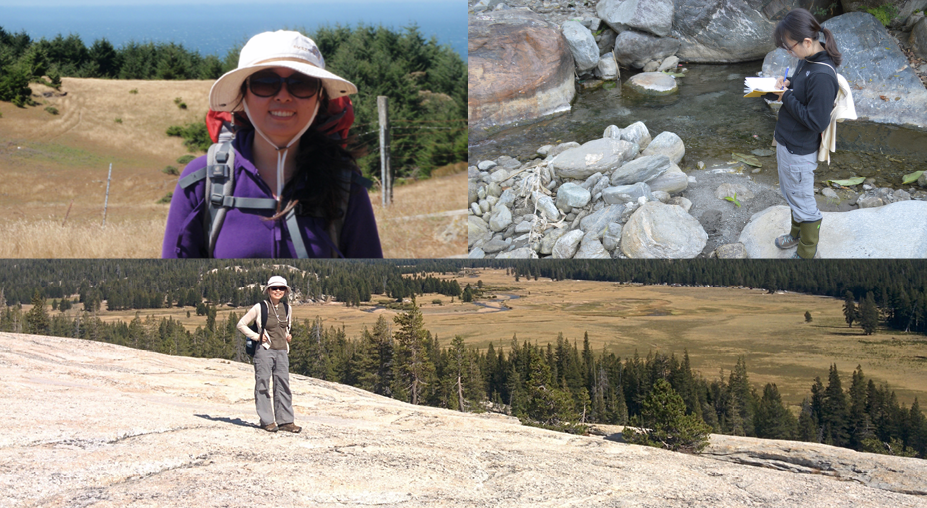 Marguerite T. Williams Award
Martha Cary (Missy) Eppes
University of North Carolina at Charlotte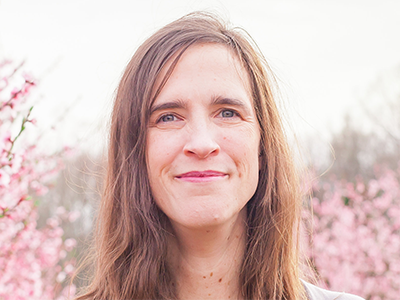 Citation
Martha Cary "Missy" Eppes transformed our understanding of processes operating beneath our feet and built bridges between communities. Her groundbreaking, interdisciplinary research links rock fracture mechanics and surface processes. Her early career was rooted in soil geomorphology. In the past decade or so, the wide arc of her research has changed how we think about rock cracking. Back in the day, I, and most geomorphology undergraduates, was taught that great temperature ranges and/or water expansion in preexisting cracks were required to fracture rocks, leading to the breakdown of rock, and by extension, the mechanisms underlying mineral-soil production. Missy and her collaborators discovered that physical weathering in virtually all rock types progresses by moisture (climate)-dependent subcritical fracturing under almost all of Earth's surface and near-surface environmental conditions. I doubt it was her goal to create new, better textbook explanations when setting out on this path. Rather, my sense is that her fearless intellectual curiosity guides the questions she asks and her research agenda. In creating a new community of scientists and engineers who care about cracking, she has proven herself to be a generous contributor, planner, and research matchmaker. When finding a chasm, she creates community. Although she has been recognized for her research contributions, including recently receiving the Geological Society of America's Kirk Bryan Award, this Williams Award also acknowledges the (mostly invisible) service done to help the scientific enterprise run smoothly and efficiently and expand opportunities for others. Missy spends countless hours sharing what she has learned over years by slow trial and error to kick-start others' research and saves other people's time and resources. Her substantial service, teaching, and mentoring contributions include a myriad of efforts for the scientific community, society, students, and women and minoritized individuals in the science, technology, engineering, and mathematics (STEM) fields—too many to list here. I am so pleased Missy was named the 2022 Marguerite T. Williams awardee. She embodies the AGU of the future—an organization of scientist-weavers, tying communities and knitting ideas and creating something beautiful in the process.
—Jane Willenbring, Stanford University, Stanford, Calif.
Response
Jane Willenbring's intuition regarding my matchmaking inclinations is accurate, because I come by it honestly. Frank and Frankie Eppes were enormous people pleasers, in the highest and best use of that term—my father an ever vigilant liaison between people and what brought them joy, and my mother a firm believer in constantly attending to life's beauty so that it could be leveraged to make others feel at ease. These are values I cherish and to which I aspire. So just as my obsession with rock fracture has indeed been driven by passionate curiosity, it has been equally driven by delight in presenting knowledge gaps to people whose company I quite enjoy and whose own expertise serves to fill those voids. I chuckle that growing fissures are the tie that binds so many friends together: rock physicists, engineers, climatologists, geographers, stone preservationists, artists, microbiologists, computer scientists, planetary geologists, and, of course, my entire Earth surface processes family.
The science also benefits from this diversity. A structural geologist sent me to fracture mechanics to better understand competing (synergistic!) forces driving rock fracture. There, I stumbled upon rock physicists who were, apologetically in their own deep-crust literature, conducting experiments at 1 atmosphere and 20°C. When my fellow geomorphologists suggested I prove the efficacy of climate-dependent subcritical stresses by cracking rocks in the lab, I enthusiastically responded that those experiments were already complete! So, in effect, my "big idea" had been at the party the whole time. I just translated an invitation for her to join the dance floor and made a happy announcement to the crowd!
Matchmaking also broadens perceptions of research unexpectedly. An artist pointed out: "Missy, the world thinks of climate change as melting glaciers and rising seas. You are saying it will affect us in ways we have never thought of, down to the smallest cracks in our bedrock. That is profound."
A dancer proposed that we fluidly exchange the words "person" and "rock"; there is no rock on Earth that does not have cracks—ever evolving defects caused by the greatest, and least, of forces. These fractures alter the very nature of the rock itself, influencing her tendency to break or heal, her ability to withstand great stresses, and her capacity to retain precious resources. Try to name a single event in Earth's history not connected in some way to cracks. Please email me if you think of one.
—Martha Cary (Missy) Eppes, University of North Carolina at Charlotte
Field Photos
Seulgi Moon
University of California, Los Angeles
Field Photos