Field Trips
At FIHM22, there are many field trip opportunities to explore Puerto Rico's diverse ecological areas and city life, from kayaking on one of the world's only bioluminescent bays, to a guided tour of historic Old San Juan.
Field trip tickets can be purchased onsite, pending availability. Please inquire at registration. You can sign up for a field trip as you register for the FIHM meeting. If you have already registered, sign into your account to add and purchase a field trip.
Cancellation/refund policy: Written notifications must be emailed to [email protected].
Registration cancellation received by 17 May 2022 will receive complete refund.
Cancellations received between 18 and 24 May 2022 will have a $50 USD processing fee deducted from their refund.
No refunds will be issued for cancelled registrations or ticketed events after 24 May 2022.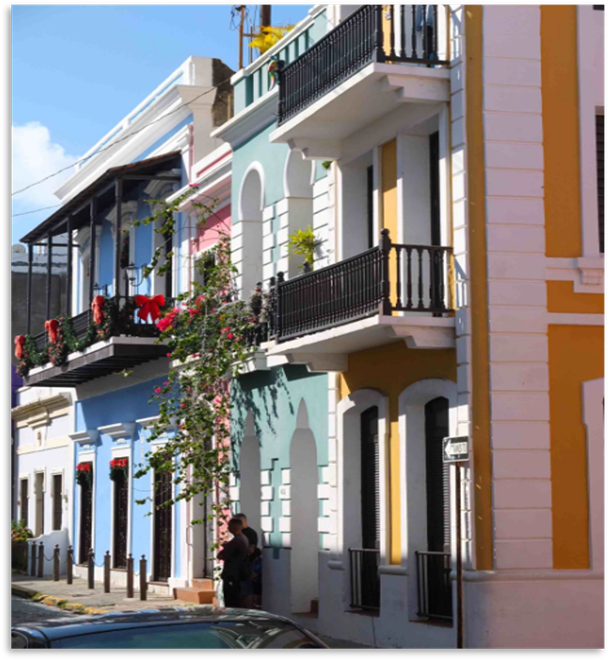 Camuy River Cave Tour (CANCELLED)
This guided tour will explore the Río Camuy Cave Park, located in Puerto Rico's northwestern region. The caverns are part of an extensive network of natural limestone caves and underground waterways carved out by the Río Camuy which is the third largest underground river in the world. While the cave system was officially discovered in 1958 archeological evidence shows that the caves were explored hundreds of years ago by the Island's indigenous inhabitants. Over 10 miles of caverns, 220 caves, and 17 entrances to the Camuy cave system have been mapped. However, this is only a fraction of the entire system, which many experts believe still holds another 800 caves. Only a small part of the complex is open to the public.

*The caves are large (size of a dome resembles a sports arena), well lit, and the paths are paved and include staircases with railings. Nevertheless, the stone surface is usually wet due to high humidity and very slippery. The caves serve as a home for multiple bat colonies.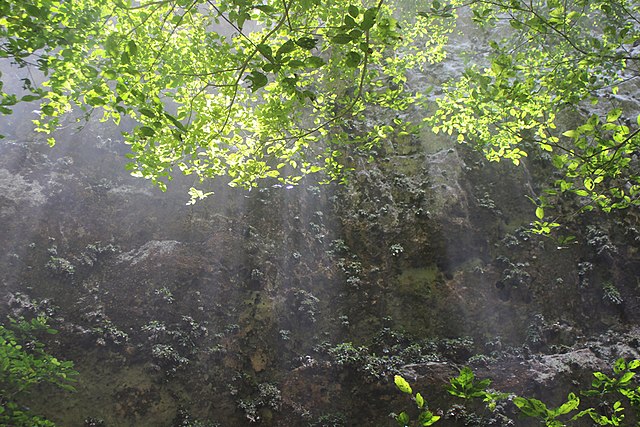 Inside Río Camuy Cave Park
credit: viviandnguyen_, CC BY-SA 2.0, via Wikimedia Commons
Old Aqueducts of Río Piedras Tour
Inaugurated in 1899, these historic waterworks were at the time the most advanced water purification facility in Puerto Rico. They were planned and built prior to the Spanish-American War of 1898 and constitute the only Spanish-period aqueduct on US territory that still retains most of its integrity. This historic site is beside the grounds of the Río Piedras Experimental Station and the University of Puerto Rico Botanical Garden, which are places of lush vegetation and a rich diversity of bird species. Snacks and water will be provided.
Date: Monday, 20 June
Time: 1:00 PM – 3:30 PM
Cost: $70
Pack the following:

Fresh and comfortable clothing that protects you from the sun
Hat or cap
Comfortable closed shoes. No sandals or flip flops.
Use mosquito repellant and sunscreen.
Bring your reusable bottle for water or liquids that you are going to consume.
Hacienda La Esperanza - Sugar Cane Tour (CANCELLED)
During this guided tour, you will visit the remains of one of the most important sugarcane haciendas of the 19th century. Its historic site includes a sugar mill steam engine that is the only one of its kind still in existence. Among the green landscape of this alluvial plain you'll also find the rehabilitated structure of Marqués de La Esperanza's former residence, which today accommodates an important machete collection from the period and other facilities. At Hacienda La Esperanza, nature and history coexist thanks to the Río Grande de Manatí, one of the most important rivers in Puerto Rico. To this very day, its waters are intimately linked to all things living in this nature reserve.
Old San Juan Walking Tour
Join a resident expert on the Old San Juan for a 3-hour walk through the cobblestone streets of the colonial city. The stroll includes historical sites, favorite places of the sanjuaneros (bohemian local residents), and an opportunity to visit unique architectural spaces away from the beaten path.

During the tour, you will explore the colonial quarters of San Juan, the capital of Puerto Rico, founded by the Spanish conquistadors in 1521. This is not only the oldest city in the United States, but one of the two oldest European cities in Latin America. In contrast with the capitals of the neighboring islands, Old San Juan has preserved its historical identity and architectural integrity thanks to the activism of the local cultural luminaries who managed to have new construction banned and ensured that any restoration works, including those in private houses, could be done only with the permission of the Institute of Culture. Today's urban legends, modern folklore, and a lively discussion of Puerto Rico's ambiguous political status will help you connect past with present and emerge from the tour with a new understanding of this unique Caribbean island and its people.

Date: Tuesday, 21 June and Thursday, 23 June
Time: 5:00 PM – 8:00 PM
Cost: $65
What to bring:
•

Water
•

Sunglasses
•

Sunscreen
•

Comfortable shoes
•

Face mask
Not suitable for:
•

People who have difficulty walking long distances.


Service Trip with ENLACE (CANCELLED)
ENLACE is a public corporation set up by the government of Puerto Rico to provide the local residents and organizations a means of collaborating on improving the Caño Martin Peña communities and the canal itself. A crucial part of ENLACE is the establishment of a community land trust, to inoculate against gentrification through collective ownership of land.

This organization attends the needs of the community of Caño Martín Peña, a disadvantaged community within 10 minutes from Puerto Rico Convention Center, with a number of infrastructure challenges. They also have an adult literacy program. This activity will include a combined (bus/walk) tour of the community and the areas neighboring Fideicomiso de la Tierra (the land trust) together with the trust representative, followed by a volunteer activity to help the Trust fulfill its mission. Volunteers usually perform tasks such as restoration, cleaning, and painting of community areas (schools, green areas, etc.).
Bioluminescent Bay Kayak Tour
The Bioluminescent Bay Kayak Tour is an unforgettable experience offered by only five bays in the world, three of them located in Puerto Rico. The bioluminescent bay, surrounded by the mangrove trees, contains a special species of zooplankton, which emits light when activated by contact with moving objects. As if by the will of an invisible wizard, your hand suddenly shines with glistening lights as you move your fingers through the water, and on the moonless nights you may be able to see the sparkling contours of fish swimming by your kayak Intensity may vary depending on the tide and the phase of the moon.
Date: Wednesday, 22 June and Thursday, June 23. Snacks and water will be provided.
Time: 6:00 PM – 11:00 PM
Cost: $215
Intensity may vary depending on the tide and the phase of the moon. Weight limit: 190 lbs. Prior kayaking experience not required.
What to Bring:
•

Clothes that can get wet or swimwear
•

Water shoes, flip flops, or sandals
•

Towels and dry clothes (optional)
•

Cash for restaurants, souvenirs, or tip
•

Face mask
Do Not Bring:
•

Cameras or any electronics that are not waterproof.
•

Valuable items like jewelry.
Restrictions:
•

This adventure is not recommended for guests with heart conditions, neck or back problems, epilepsy, or dizziness.
•

This experience cannot be offered to pregnant women due to safety considerations.
•

Minimum age is 6 years old.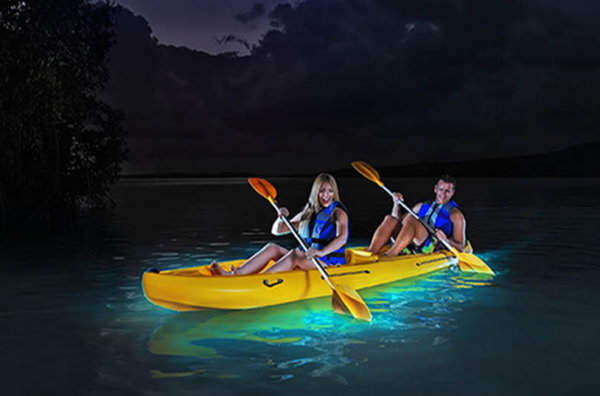 Las Cabezas de San Juan Tour (CANCELLED)
The Conservation Trust of Puerto Rico originally acquired most of the lands that make up Las Cabezas de San Juan Nature Reserve in 1975. Located on the northeastern tip of Puerto Rico, the site's name—Las Cabezas de San Juan— refers to the three head-like promontories that extend into the Atlantic Ocean. The Historic Fajardo Lighthouse sits on top of one of these vantage points, enjoying an incomparable view that extends to much of the surrounding islands and cays, including Vieques and Culebra. The Trust saved this area of invaluable ecological importance from being developed into a touristic project complete with a marina. Officially designated a nature reserve in 1986 by the Department of Natural and Environmental Resources and the Puerto Rico Planning Board, this area is well known for its Laguna Grande— one of three water bodies with year-round bioluminescence known in Puerto Rico. Only steps away from many hotels and tourist destinations, the reserve and its lighthouse have also become one of the area's most popular attractions.
Hacienda Buena Vista - Coffee Plantation Tour (CANCELLED)
The Hacienda Buena Vista Natural Protected Area is located in a mountainous sector between Adjuntas and Ponce, where the Canas River flows south towards the Caribbean. The river was essential for the hacienda, as an intricate system of waterworks was built to draw water from it and to power several hydraulic machines that have been carefully restored to working conditions. A sub-tropical humid forest rich in plant and animal life characterizes nature in the area. Small plots of coffee, cacao and fruit trees still grow here under the shade of wood-producing trees. In September 1987, Hacienda Buena Vista became the first Para la Naturaleza site to open a visitor center and has since become one of the region's main tourist attractions.