Awards and Certifications
Quick Links
Awards and certifications
Awards and certifications
AGU is honored to have received the following awards, honors, certifications and ratings for our net zero energy renovated headquarters.
Awards
The Project Awards celebrate outstanding contributions to development in the Washington region. "The AGU building demonstrates that achieving net zero energy standards in a dense urban environment is feasible and underscores the built environment's imperative role in securing a bright future for our planet and for the next generation."
The Rise to the Challenge Award was awarded to AGU for overcoming significant obstacles to major building renovations, or otherwise implemented innovative technologies or operating strategies.
AGU also earned the Climate Champion Award for demonstrating advanced design solutions or approaches to addressing climate change through carbon tracking and reduction technologies and/or strategies.
The Department of Energy's Building Envelope Campaign recognized AGU Headquarters with the Retro 50 Award for achieving a building envelope performance improvement of 50% over the existing building, due to implementation of building envelope improvements.
The city's inaugural Clean Energy DC Award, part of the DC Department of Energy & Environment's annual District Sustainability Awards, honors AGU's commitment to achieving net zero energy.
Presented to construction partner Boatman and Magnani, Inc.
The Craftsmanship Award from the Washington Building Congress recognizes the innovative use of terrazzo in the lobby of AGU's renovated headquarters. The original terrazzo floor was preserved, and new terrazzo for the expanded space was manufactured locally from reclaimed toilets, windows, and granite.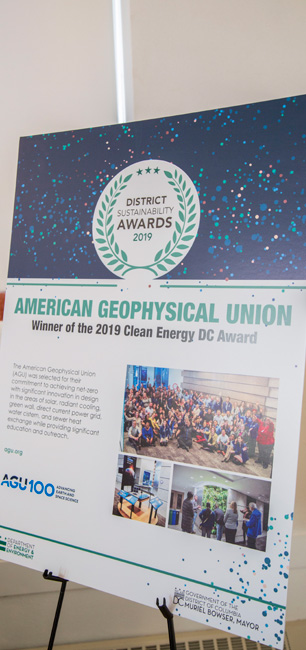 Honors
AGU's renovation project was the first net zero energy commercial building renovation in Washington, DC.


Washington, DC, Mayor Muriel Bowser signed the city's Clean Energy DC Omnibus Amendment Act of 2018 — a piece of legislation that will require electricity in the city to come from 100% renewable sources by 2032, among other sustainable initiatives and incentives — at AGU's headquarters.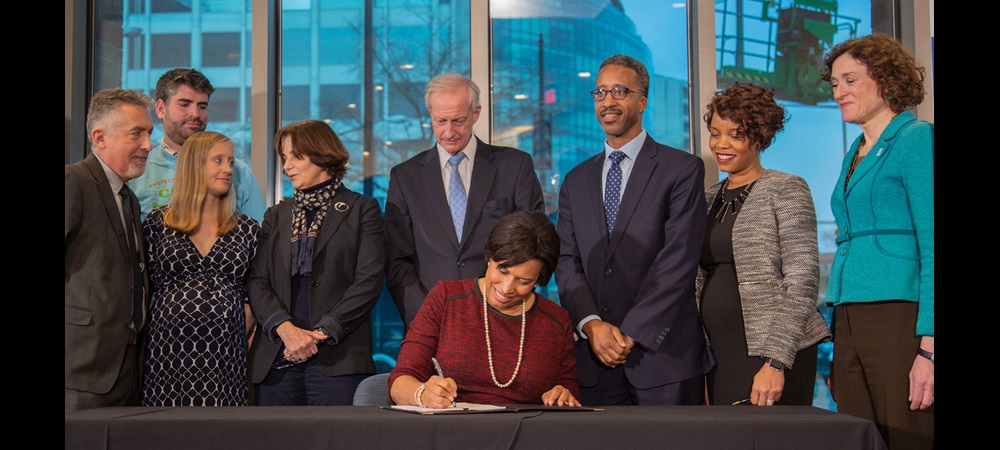 Certifications and ratings