Tour information
AGU's headquarters exemplifies our vision of a thriving, sustainable and equitable future supported by scientific discovery, innovation and action. We welcome in-person or online visitors to take a tour of the the renovated net zero energy building located in the heart of Washington, D.C.'s Dupont Circle neighborhood.
The tour provides a look at the sustainable practices utilized in the building's renovation and daily operation, including its systems, workspaces and conference facilities. Tour participants will learn about the four key principles that inspired the building's renovation: reduction, reclamation, absorption and generation.
To register for an in-person tour, please fill out our form.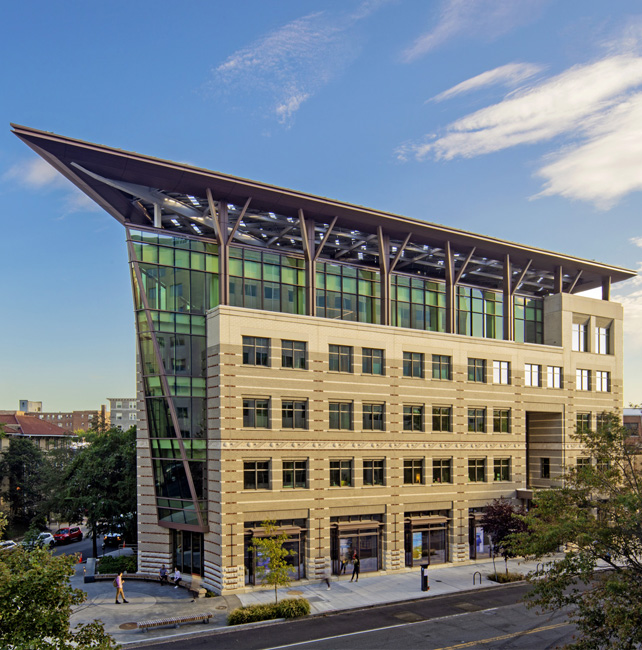 1

Conference Center

AGU's renovated net zero energy headquarters offers multiple conference spaces that are

available for rent

, including a rooftop terrace, meeting rooms and a social function space.

2

Building systems and workspaces

The systems, operational practices and workspaces of AGU's renovated headquarters work together to meet the organization's goals for net zero energy.

3

AGU museum

AGU's renovated lobby now includes an interactive public exhibit space that highlight advancements in Earth and space science and their impact on society. This exhibit serves as an exciting and educational destination for the neighborhood.

4

Member lounge and workspace

AGU's member lounge provides a relaxing gathering place and shared workspace for visiting members to foster collaboration among peers, colleagues, staff and other partners.

To use the lounge or office space, please contact us.
Request an in-person tour
For more information or to schedule a tour, please fill out the form. A member of AGU's building team will be in contact with you to confirm your tour and provide pertinent details.
Please note: You will need to present a valid government issued photo ID before participating in a tour.
At AGU, we've put safety measures in place to protect the health of our members, visitors and staff from COVID-19. In accordance with CDC and local guidelines, we are currently requiring all visitors, including those who have been vaccinated against COVID-19, to wear a face covering and practice social distancing while inside AGU facilities. We also ask all guests to have their temperature checked before entering the building.