Science Policy: Science and Society Dialogues
Webinar
Work at the science and society interface benefits from increased awareness of, and research in, how to share science, collaborate with inspire the arts, inform policy making, and effectively work with communities and decision makers. During this event, we will hear from leaders in Science Policy, followed by a facilitated discussion.
All disciplines and interests are welcome! This is an opportunity for anyone new to the Science and Society section to learn more, anyone already familiar to make new connections, and for everyone to inform the directions and work of the section in the future through thought provoking presentations and conversations.
Presenters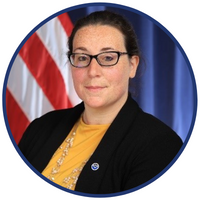 Adena Leibman currently serves as a Senior Advisor to the Under Secretary/NOAA Administrator with a focus on offshore wind across the agency and additional issues under the Office of Marine and Aviation Operations.
Prior to joining NOAA, Adena Leibman was a senior manager for federal affairs at Environmental Defense Fund (EDF) where she led the oceans and wild-caught fisheries national policy work. Before joining EDF, Adena worked for U.S. Senator Sheldon Whitehouse (RI) as his lead ocean and natural resources policy staffer and appropriations manager. During her tenure in the U.S. Senate, Adena oversaw the development and passage of the bipartisan Save Our Seas and Save Our Seas 2.0 Acts, which address marine debris and plastic pollution; creation and initial funding of the National Coastal Resilience Fund; and drafting and introduction of the BLUE GLOBE Act, an ocean data and exploration bill. She previously served as plastics initiative manager and staff attorney with Ocean Conservancy, clerked with the U.S. Department of Justice and Bonneville Power Administration, and started her career in policy as a NOAA Sea Grant Knauss Legislative Fellow.
She has a J.D. from Lewis & Clark Law School, a B.S. and M.S. in marine science from the University of South Carolina, and a certificate in executive leadership from Cornell University.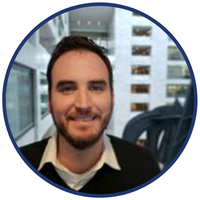 Dr. Aaron Goldner received his bachelor's degree from Oregon State University where he studied Earth and Environmental Science. After graduation from OSU, he was a post-baccalaureate fellow at Los Alamos National Laboratory as part of its climate, ocean, and sea-ice modeling group where he looked at the effects of climate change on water resources. Following his work at Los Alamos, Aaron received his PhD from Purdue University where he studied climate dynamics and global climate modeling.
In addition to working on climate and energy modeling, he has spent the last 8 years working in public policy. Aaron's work in policy has included working in the Office of Senator Sheldon Whitehouse as an American Geophysical Union (AGU)-AAAS Congressional Science Fellow and at the Department of Energy's Office of Energy Policy and Systems Analysis doing climate and energy policy. In 2015, Aaron returned to the Office of Senator Whitehouse as a senior advisor on energy and transportation policy. He led the energy and infrastructure portfolio for the Senator's work on the Environment and Public Works Committee. Aaron now serves as a professional staff member on the Senate Appropriations Committee, focusing on energy and climate policy.
Dr. Dave Reidmiller is the Director of the Climate Center at the Gulf of Maine Research Institute (GMRI) where he leads a team focused on delivering climate services to coastal and marine stakeholders. Soon after moving to Maine, Dave was appointed as a climate advisor to the Biden-Harris Presidential Transition Team.
Prior joining GMRI, Dave served in several climate science policy positions in the federal government, including as Director of the Northeast & Southeast Climate Adaptation Science Centers at the U.S. Geological Survey, Director of the Fourth National Climate Assessment with the White House Office of Science & Technology Policy, and as Chief Climate Scientist at the State Department where he led U.S. negotiations on science and technology for the Paris Agreement.
Dave also served as a Fellow in the U.S. Senate working on energy and natural resource issues, as well as a Mirzayan Fellow at the National Academies of Sciences, Engineering, and Medicine. He received his Ph.D. in atmospheric sciences from the University of Washington, his BA in chemistry from Colgate University, and is a native of Rochester, NY.
August 2022
From Tuesday, 16 August 2022 02:00 PM ET
To Tuesday, 16 August 2022 03:00 PM ET
More Information