Science is Society
Every year, AGU Fall Meeting unites >25,000 attendees from 100+ countries in the Earth and space sciences community to discuss findings, connect scientists from around the world, advance our profession and connect over our passion for the impact of science. It convenes thousands of researchers, scientists, educators, students, policymakers, science enthusiasts, journalists and communicators who are driven to better understand our planet and environment, and our role in preserving its future. It is a results-oriented gathering rooted in celebrating and advancing positive individual and collective outcomes.
That's why Science is Society is the AGU Fall Meeting 2021 theme.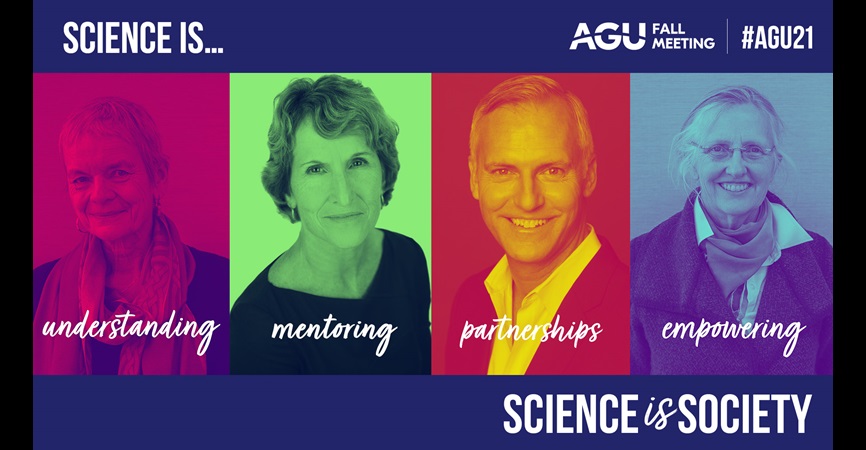 We need to share the research and knowledge that our community is building with the world so that we foster a sustainable environment for future generations.
Science is decision-making. From where and how homes are built to mitigate risk from natural disasters to the development and transition to renewable energy systems, science must inform our choices.
Science is understanding. We must convene diverse individuals across disciplines from around the world to identify challenges and develop equitable solutions.
Science is disruptive. We need to be able to debate ideas in a safe and welcoming environment so that we keep thinking bigger, broader and better.
Science is personal. Each one of us is motivated to do our work for different reasons, which we'll highlight throughout the year.
Science is a community. Even though we have our own personal motivations, we must work together to be advocates and supporters of the research that informs our decisions and is integral to our success in creating a better world.
Science is Society.
About the Theme
There are few fields that truly have an impact on affect and effect our planet as much as the Earth and space sciences. Throughout AGU's 100+ year history, our members have determined Earth's age; discovered its inner core; identified the mid-ocean ridges; observed the Van Allen Belts; and proved human-induced climate change.
We are proud of the work our community continues to do to measure, model and understand Earth and space systems from the molecular to the planetary scale, and the way this work opens new doors for further discovery and solutions in AGU's next century.