Town Halls offer an opportunity for government agencies, academic programs, special projects, and other focused interest groups to gather input from the AGU community. They are designed for engaging discussions following best practices for virtual meetings. In-person town halls will take place in New Orleans 13-17 December at the Ernest N. Morial Convention Center. Online-only town halls will take place online 6-9 December. They will be conducted live, will be one hour in length and will be hosted on Zoom. Live sessions will be recorded and then posted to 72 after the session in the online program where it will be available for on-demand viewing throughout the duration of the meeting. This is so attendees can view the presentations and discussions on their own schedules.
Town hall organizers will moderate the live sessions and facilitate discussion with the presenters/panelists and attendees via the text chat in Zoom.
Town Hall Schedule
Town Halls are open to all registered meeting participants. The schedule is now available.
View Schedule
In-person Town Halls include the following:
All rooms are equipped with an LCD projector, screen, laser pointer, a speaker timer, and two computers (one Windows-based PC and one Mac).

Town hall rooms will be used during the day for scientific sessions and therefore will be set theater-style with rows of chairs, as well as a small stage with a lectern and head table. The room set cannot be altered.
Presenters and attendees can participate and ask questions in-person or online.

An audio-visual technician will be present during the town hall.

Recording of slides and audio for on-demand viewing on AGU's virtual platform following the meeting.

Audio/Visual: If organizers require additional audio-visual equipment, additional fees may apply Please refer to the scheduling notification for A/V contact information.

Catering: Please note that all catering must be ordered from the convention center and outside catering cannot be brought into the building. If organizers wish to order food and beverages for the attendees, please refer to the scheduling notification for conference center catering contact information.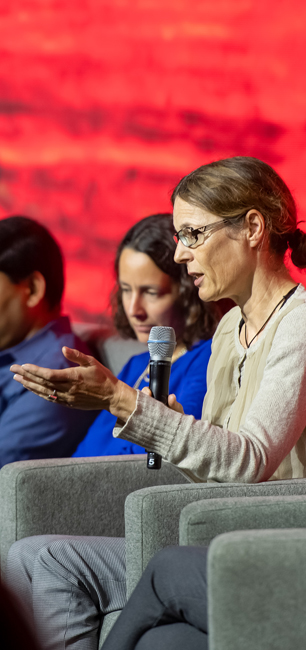 Online-only Town Halls include the following:
1

Live town hall and interactive platform.

2

An audio-visual technician will be present during the town hall.

3

Recording of town hall for on-demand viewing on AGU's virtual platform following the meeting.
Please note the following guidelines:
Organizers may develop the presentation format for the town hall program as they see fit, but within the parameters of the approved proposal.
All town hall organizers were billed a technology/labor charge to have an audio-visual technician present (in-person or online) to support the town hall. This charge covers the room rental, audio-visual technician, recording, editing, on-demand virtual platform. and viewing of your session
All town hall attendees and presenters must be registered for the Fall Meeting. If you are not already registered, please register. Individuals will not be permitted into a in-person or online session without being registered.
Optional: If town hall presenters or panelists in a session have any presentations, organizers should reach out to them directly in advance of the meeting to collect their slides so that they can create one presentation deck that the r conveners of the session will present during the live town hall. Instructions for uploading content will be provided to the primary contact listed on the town hall.
In addition, if the organizers have any content or reference materials that they would like to make available to attendees prior to the day of the town halls, they may add the links to this material to the existing town hall description that will display in the online program. Please access the User Portal to make any changes to the town hall including presenter updates.
If you have any questions regarding the scientific program, please contact the Scientific Program Team.