Speaker Marketing Tips & Tools
OSM wants to provide presenters and conveners with the tools they need to promote their participation in OSM24. To assist you with increasing awareness of your involvement, boosting attendance at your session, and broadening the outreach for the conference, we are providing you with step-by-step instructions to assist with getting the word out.
Social Media
Promote your session on social media platforms like X (formerly Twitter), Facebook and Tumblr. Take advantage of the OSM24 social media templates developed by the OSM design team.
Tools and Tips for Promoting Your Session
Email Signature
Add a brief message beneath your standard email signature announcing your participation and engagement in OSM24. A sample presenter message might be:
Join me at OSM24 while I present on [insert topic]!
---
Post on a Professional Networking Site
Post an OSM24 graphic on your professional networking site, like LinkedIn. To add an image to your network post, click on the image to download, then right-click to save it to your computer. Be sure to hyperlink the graphic to https://www.agu.org/ocean-sciences-meeting.
---
Extend a Personal Invitation
Encourage your colleagues and contacts to hear your presentation and attend OSM24 by sending a personal note of encouragement.
---
OSM24 Technology Guide
Zoom
Online sessions at OSM24 will make use of Zoom Meeting. In joining these, all attendees will be offered the option of using a web browser rather than the Zoom app. Most major participant functions are supported in the browser, including sharing screens, chat and breakout rooms.
Links to view the sessions will be available in the mobile app and online platform just before the start of each session.
---
Online Presentation Platform
This platform will be used by registered attendees to view the meeting schedule, build a custom schedule, view interactive posters, and navigate the onsite meeting.
Sessions will be uploaded here for on-demand viewing within 72 hours after the session ends, and will be available through May 2024.
Registered attendees will be able to access the meeting app in early February.
---
Presenter Upload Site
The presenter upload site will be used to upload pre-recorded presentations for online presentations or slide presentations for in-person presenters.
The deadline to upload slides is

16 February at 17:00 CST (UTC -6)

. If you miss the deadline and will be in-person, you must visit the onsite Speaker Ready Room at least 24 hours or as soon as possible before your session to upload your slides. Please note, lines may be extremely long on Monday morning before the first 8:30 oral session. Please allow ample time to register and visit the speaker ready room if needed.
---
Poster Requirements and Best Practices
Dimensions
Maximum Poster Dimensions: 45" x 45" (3.75 feet by 3.75 feet).
Each presenter will share an 8'W x 4'H posterboard.
Font Requirements
Paragraph/captions — 24 points (0.9 centimeters high) Minimum
Headers — 36 points (1.2 centimeters high) Minimum
Use different colors and textures/symbols for each line or bar.
Use a serif font (e.g., Times) for main text.
Use a non-serif font (e.g., Arial or Helvetica) for headers and labels.
Important details
Do not laminate your poster so that it can be recycled.
Put the title and number of your paper at the top of the poster board.
Highlight authors' names and contact information.
Make sure diagrams or charts can be read from 2 meters away.
Allow for a 2.54-centimeter (1-inch) border.
Best Practices
Organize the poster so it is clear, orderly, and self-explanatory.
Group similar ideas together.
Label elements as I, II, III; or 1, 2, 3; or A, B, C.
Avoid clutter (e.g., too much text).
Include key details such as background, results, and conclusion.
View examples from 2020 for inspiration
---
Speaker Ready Room
If you have not uploaded your slides online, in-person oral session presenters may check in at the on-site Speaker Ready Room at least 24 hours before their presentation, even if they have uploaded their presentation slides. If you cannot check in at the Speaker Ready Room 24 hours before your session, please go to the Speaker Ready Room as early as possible before the start of your session.
---
What to do in the Speaker Ready Room
When reviewing your slides in the Speaker Ready Room, make sure all fonts appear as expected and all audio/video clips are working properly. You may edit your presentation slides at this time if needed. When you have finished reviewing your slides, the audiovisual staff will queue them for use in the oral session room.
NOTE: Do not edit your slides less than four hours prior to your session. The A/V staff cannot guarantee that your updated slides will be in the session room at the time of your presentation.
---
Reminders
We recommend that you bring at least two additional digital copies of your presentation slides to the meeting in case there is an issue with your uploaded file. If you are unable to visit the Speaker Ready Room 24 hours before your session, please go to the Speaker Ready Room as early as possible before the start of your session. Presentation media will be returned to the speaker.
You must provide identification to submit and access your presentation in the Speaker Ready Room. USB ports and CD/DVD drives on the computers are disabled so no presentations can be copied; external storage devices will not function on the meeting room computers. Cameras and video equipment are not permitted in the Speaker Ready Room. If you have any questions regarding the specifications for presentations, please email our A/V partner, Projection.
---
Hours and Location
Sunday: 14:00–19:00
Monday: 07:30–17:30
Tuesday to Thursday: 08:00–17:30
Friday: 08:00–15:00
The Speaker Ready Room is located in the Rivergate Room, Level 1, Ernest N. Morial Convention Center.
---
Citing Your OSM24 Abstract
Authors can cite their OSM24 abstract in the following format: Author(s) (2024), Title, Abstract (Final paper number, ex: AI14B-0714) presented at OSM24, 18–23 Feb.
---
No Photos
If you would like to prevent attendees from taking photographs of your work, please add the following icon to your poster or presentation.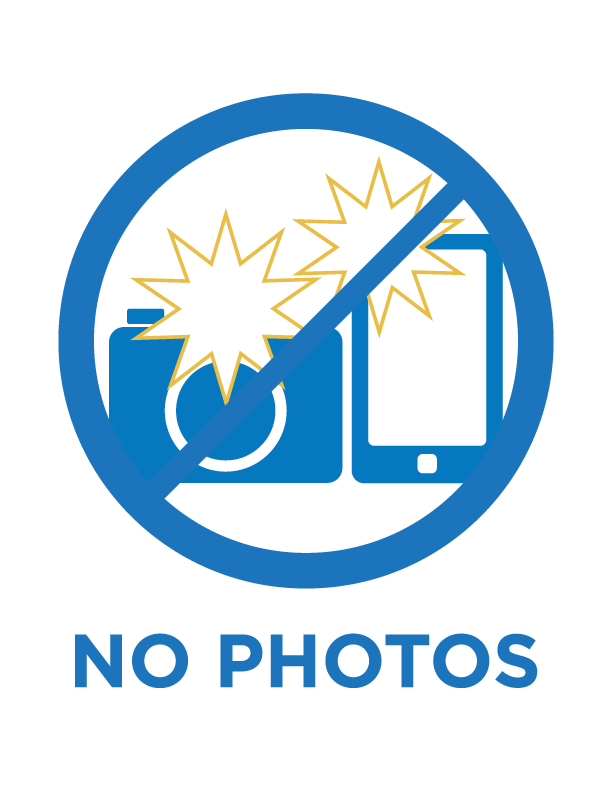 ---
ESS Open Archive
Increase your poster or presentation's visibility and reach after OSM24: give it a DOI, and make it citable and trackable via the ESS Open Archive. AGU and ASLO are sponsors of ESS Open Archive, a community preprint and presentation archival server established to accelerate the open discovery and dissemination of Earth and space science early research outputs. Submissions to ESS Open Archive this year can be made manually by following the instructions on our Submission Guide:
ESS Open Archive Submission Guide