Keynote and Plenary Speakers
Water Tells Stories Through People in Louisiana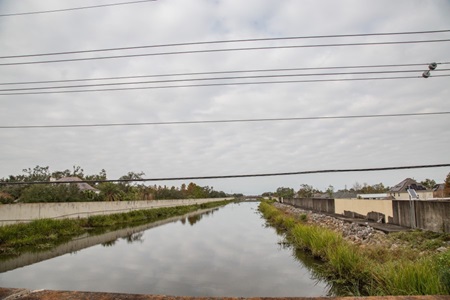 Opening Plenary
Sunday, 18 February 2024
05:00PM (CT)
Great Hall A/B
The plenary session will showcase local storytellers who examine the intersection between historical racialized oppression and injustice with various environmental problems in their communities in Louisiana. The storytelling events can be described as "live documentaries" that are designed to create multisensory, immersive experiences. These events combine live storytelling, real-time audio composition, and whole-space projections to create visceral, change-making experiences.
Presenters, Storytellers, Community Scientists, and Artists:
Monique Verdin, Citizen of the Houma Nation, Director of The Land Memory Bank & Seed Exchange
Gaynell Brady, Executive Director, Our Mammies
Angela Chalk, PhD, Executive Director, Healthy Community Services
Creative Team:
Kendall Moore, PhD, University of Rhode Island
Alex DeCiccio, University of Rhode Island
Patrick Flanagan, University of Rhode Island
Ryan Campos, University of Rhode Island
Faye Thomas, University of Rhode Island
Professor
University of Southern Denmark
Plenary
Tuesday, 20 February 2024
10:30AM (CT)
Great Hall A/B
Don Canfield is Professor of Ecology and Villum Investigator at the University of Southern Denmark, having received a bachelor's degree in chemistry from Miami University in Oxford, Ohio, and a PhD in geochemistry from Yale University. Don has worked at understanding the interface between the chemical and biological evolution of the Earth. Don's approach explores modern ecosystems and organisms, including organismal physiology, as they inform Earth evolution.
Don is a member of the National Academy of Sciences of the USA and a foreign member of the Royal Societies of London, Denmark, and Sweden. He is fellow of the Geochemical Society, the American Association of Microbiology, AGU, AAAS and has received the Vladimir Vernadsky Award from EGU, the Urey Prize from EAG and the Villum Kaan Rasmussen Award.
Ecosystems Ecologist & Biogeochemist
Boston University
Plenary
Tuesday, 20 February 2024
10:30AM (CT)
Great Hall A/B
Robinson W. ("Wally") Fulweiler is an ecosystems ecologist and biogeochemist by training. She heads a laboratory at Boston University focused on answering fundamental questions about energy flow and biogeochemical cycling of nutrients (nitrogen, phosphorus, and silica), carbon, and oxygen in a variety of environments. She is especially interested in how anthropogenic activities affect the ecology and elemental cycling of ecosystems on a variety of scales, from local nutrient loading to global climate change. Her latest research is centered on the transformations of elements across the land-ocean continuum, the ultimate fate of nitrogen in the marine environment, the impact of climate change on benthic-pelagic coupling, and the role of coastal systems in greenhouse gas budgets. Her group also builds new instruments and low-cost sensor packages to help improve access to and data coverage for coastal ecosystems.
Wally earned her MS (2003) and Ph.D. (2007) in Oceanography from the Graduate School of Oceanography at the University of Rhode Island. She completed her postdoctoral research at Louisiana State University. In 2008 she started at Boston University, was awarded tenure in the Department of Earth and Environment and the Department of Biology in 2014, was promoted to Full Professor in the spring of 2021. Her professional honors include a Sloan Fellowship in 2012, the Cronin award from the Coastal Estuarine Research Federation in 2013, and the Metcalf Cup and Prize in 2019 - BU's highest teaching and mentoring award.
In addition to her scientific endeavors, she is a passionate advocate for women and parents, especially mothers, in science. A primary goal of her career is to help create an equitable scientific community where individuals do not simply survive but thrive.