#AGU21 Speaker Marketing Toolkit
AGU wants to provide presenters and conveners with the tools they need to promote their participation in the AGU Fall Meeting. To assist you with increasing awareness of your engagement, boosting attendance at your session and broadening the outreach for the conference, we are providing you with step-by-step instructions to assist with these efforts.
Share Your Session on Social Media
Here are free customizable Canva templates for you to use on Twitter, Instagram, Facebook, LinkedIn, Douyin/TikTok, or Wechat! Add #AGU21 when you post!
Share
October 11-15: Add an Email Signature
Add a brief message beneath your standard email signature announcing your participation and engagement in the AGU Fall Meeting.
Sample presenter message:
Join me at the AGU Fall Meeting while I present on <insert topic>!
October 25-29: Post on a Professional Networking Site
Post an AGU Fall Meeting graphic on your professional networking site, like LinkedIn. To add an image to your network post, click on the image to download, then right-click to save it to your computer.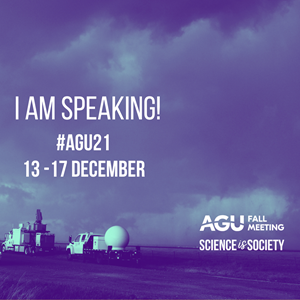 Be sure to hyperlink the graphic to https://www.agu.org/Fall-Meeting.
November 8-12: Extend a Personal Invitation
Encourage your colleagues and contacts to hear your presentation and attend the AGU Fall Meeting by sending a personal note of encouragement.
Sample presenter message:
Subject Line: Attend #AGU21: A Special Invitation
Dear colleagues,
As someone who may be interested in <insert topic>, I want to encourage you to participate in the 2021 AGU Fall Meeting. I will be presenting during this year's meeting 13-17
December in New Orleans, Louisiana and online everywhere. My presentation on (insert session title) will be held (date) at (time). During the session, I will share (insert main session objectives, highlight why a colleague should participate, latest research, pearls, etc.).
I hope you will consider joining me at the AGU Fall Meeting and connecting with this esteemed network of scientists. To register, visit https://www.agu.org/Fall-Meeting.
Sincerely,
(Your name)
November 22-24: Join the Conversation on Social Media
Promote your session on social media platforms like Twitter, Facebook and Tumblr.
Sample social media posts: