Welcome to #AGU20!
This year's Fall Meeting is in a whole new environment and is being conducted across every global time zone. Learn to navigate the meeting, build your schedule, and see what events, and activities, and resources are available to attendees here.
How do I log in?
Welcome to the meeting! The main
login
page can open the main portals and lobbies to guide you to the area of the meeting you want to attend. Login with your AGU username and password. This is also the login you use when you log into the scientific program software and when you log into
AGU Connect
.
What browser should be used?
First, update whatever browser you use. If you can use the Zoom desktop application, update that, as well.
You will need a supported browser to access the meeting. If you can't use the Zoom desktop app, all attendees can join those sessions using a browser.
Supported browsers for attendees include Edge, Chrome, Firefox, and Safari.
If you are presenting a plenary, named lecture, or union session, only Edge, Chrome, or Firefox work. Safari is not supported for these sessions.

For compatibility in the Intrado platform (where plenary, named lecture, and Union sessions will be held, as well as some other sessions), review browser needs here
What is happening when?
Fall Meeting is 1-17 December 2020. There are sessions, events, and activities happening almost 24 hours a day (and many presentations are available 24 hours a day!). Here is some summary information to help direct you:
Overall schedule information
Overall daily meeting schedule:
04:00 to 11:30 a.m. U.S. Pacific Time (1200 – 1930 UTC)
4:00 p.m. to 9:30 p.m. U.S. Pacific Time (0000-0530 UTC)
Session blocks:
Live oral and eLightning sessions: 7-11 December and 14-17 December
Poster sessions: 7-11 December and 14-16 December
Scientific Workshops and Innovations: 1-5 December, 14-17 December
Town Halls: 1-5 December, 7-11 December and 14-17 December
Plenary/Keynotes: 1-5 December, 7-11 December and 14-17 December
For most sessions, longer pre-recorded presentations and virtual posters will be available for attendees when the meeting starts.
Can I only watch sessions live?
In this virtual meeting, sessions can be attended live, as they happen, or viewed later, on your time. Individual presentations except for plenaries and awards will be available on 1 December. Recordings will be posted within 48 hours of each event. All access links will be through the online schedule after logging in.
How do I navigate the meeting?
Login to the meeting from the main
Fall Meeting page
. This main entry area can help direct you to the part of the meeting you want to go to. With three weeks of sessions and events, Fall Meeting 2020 will take place in multiple online platforms.
Is there a main portal where I can see meeting activities?
The main lobby for the meeting is located in the Intrado platform. Log in through the main Fall Meeting page, then navigate to the part of the meeting you want to attend. Below is a view of the AGU lobby in the platform. You can navigate to the scientific program and its sessions from here, as well as the poster hall, exhibit hall, networking platforms, student and early career lounge, and many, many other areas of the meeting.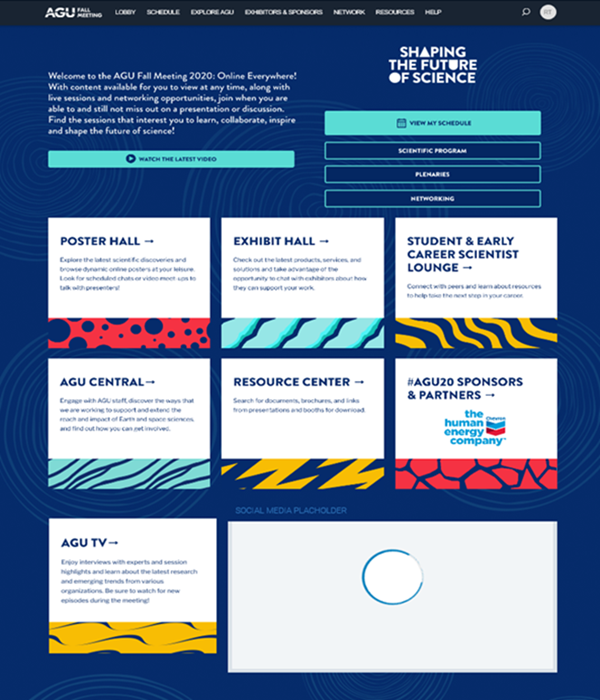 The menu at the top of the lobby can direct you to more specific activities, events, and sessions.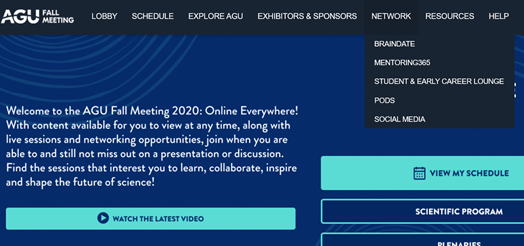 How do I search the scientific program?
The scientific program is fully online and there are many ways to search for sessions. Go to the main scientific program page to begin building your schedule. When you log into the system, you will be able to easily save sessions to your personal schedule. Keep the schedule in the online system or export to your calendar or as a spreadsheet or PDF.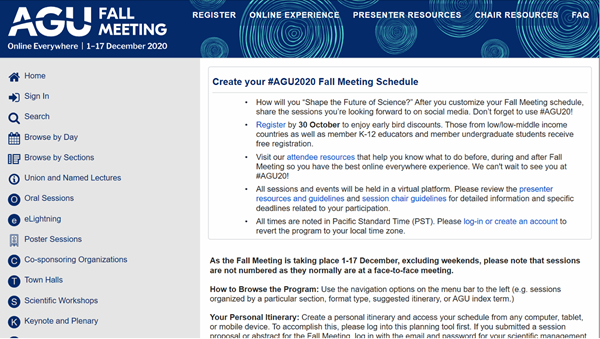 How do I create my personal schedule?
Search for the session you want to attend, using search functions along the left of the page.To add a session or event to your schedule, choose your session:
Click on the + icon to the left of a session name. The icon will turn color and look more like a calendar page. The session has been added to your schedule.

To view your full schedule, look to the upper right of the scientific program page. Click on the calendar page icon. Your schedule will appear on a newly loaded page. You can view your schedule online, or download it as an Excel file, a PDF, or an ICS file.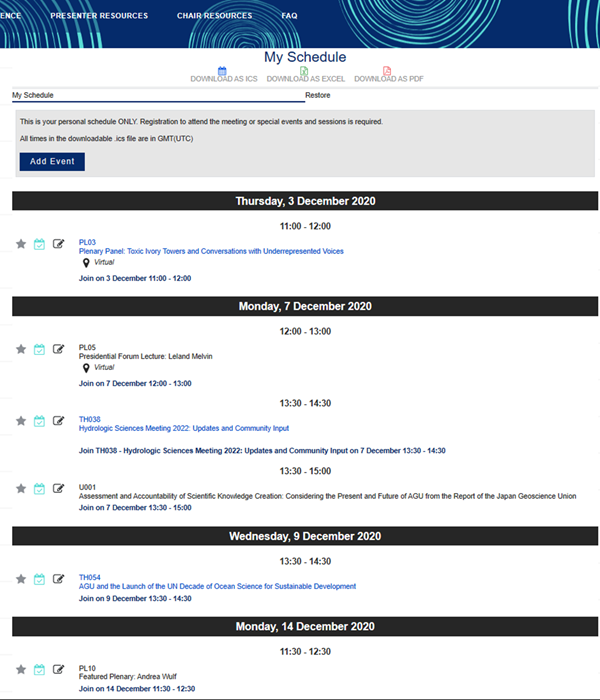 How can I view prerecorded sessions?
Prerecorded sessions will be viewable. Look for the session or presentation you want to attend or watch and follow the link to watch on-demand. If you don't see a session presentation, it could be because the session will be live or there is a delay in posting the presentation. Presentations should be available within 48 hours of a session if they were not uploaded before the session.
What interaction is there in sessions?
I want to be able to ask questions or talk with attendees in the session.
There are multiple ways to interact with speakers at this year's meeting.
Poster sessions: Poster sessions are interactive this year in multiple ways. The posters, in the iPosters system, have the ability to zoom in and play video or audio. Poster presenters can choose to have poster hours. The hours should be listed in the poster itself.
Oral sessions: Far more discussion time is built into oral sessions this year, with many, if not all, speakers being prerecorded, allowing more time for questions. Attendees will have a chance to type questions for the presenters.
eLightning: Join the one-hour live session featuring 3-minute talks from each of the presenters in a session and then look for the scheduled chat times for each poster to follow up with the presenter or have a more in-depth discussion.
I want to network! How can I do this in an online environment?
There are multiple ways to network at the meeting. Here are a few:
Braindate: #AGU20 attendees are able to book one-on-one conversations or meeting with up to four others (total group of 5) around a specific topic. You and these new or known colleagues video chat from 30 (for one-on-one) to 45 minutes (for a group). To see what topics are already set up by other attendees or to set up your own conversation topic, go to the Braindate platform. You can access this networking platform through the AGU Lobby by selecting Braindate under Network on the top menu bar.
Mentoring365: Join this virtual mentoring program developed among Earth and space science organizations to facilitate an exchange of professional knowledge, expertise, skills, insights, and experiences through dialogue and collaborative learning. The program provides mentors and mentees with structured, relationship-building tools to develop and accomplish focused career goals. You can learn more about the program by choosing it from the Network menu in the AGU lobby.
Student & Early Career Scientist Lounge: Stop by this lounge to connect with your peers during one of the volunteer-led topic chats and discover other career and networking resources. The lounge is one of the main navigate buttons in the AGU lobby.
Pods: Pods are a great option for Fall Meeting attendees who want to interact with colleagues and fellow attendees outside of the scientific sessions. Each text chat pod can be reserved for a 30-minute time slot using the Pod Reservation System.
There are many other ways to connect including conversations on AGU Connect, attending Happy Hours and more. Review Events areas in the scientific program and the AGU Lobby to see what is going on outside scientific sessions.
How can I reach out to other attendees through the online system?
In addition to the scientific program webpages, the AGU Fall Meeting Intrado platform gives you the ability to reach out to other attendees.
Your profile information should be the same as your profile information in the scientific program. If you want to add to your profile, log in to the system. From the main lobby page, click on the circular bubble in the upper right with your initials: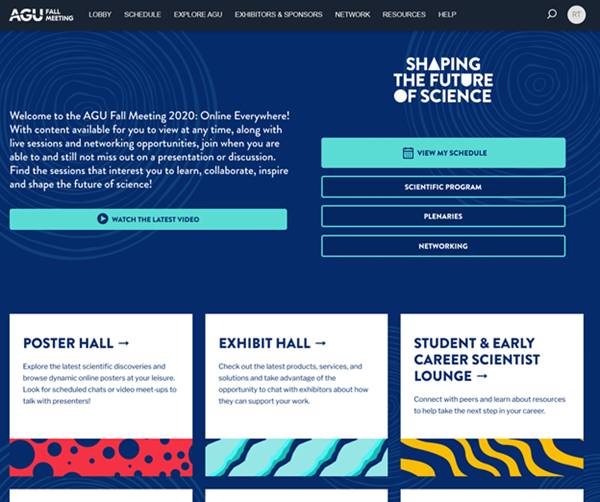 You are able to adjust your profile through the menu including choosing your local time zone to view events and sessions. You can also send messages and chats to other scientists logged in to the online platform by clicking on the chat icon in the upper left. Vcards are online business cards you can exchange:

Is there an exhibit hall this year?
Yes! #AGU20 has a robust exhibit hall and exhibitors are also showcasing their scientific knowledge during the meeting, too. You can access it through the AGU Lobby.
How do I get questions answered during the meeting?
If you are having trouble with your login or password, email [email protected]
If you need other help with the meeting platforms, email [email protected]
Call our help desk during #AGU20 hours: o Member services team:+1 202 462 6900 or 800 966 2481 (North America only)

M-F Dec 1 – Dec 11 (6am ET – 2pm ET) or (6pm ET-1am ET)
M-F Dec 14 – 18 (8am – 6pm ET)

Chat with us inside the meeting platform, available from the virtual meeting lobby under Help.
Where can I find a resource area? I'm a presenter OR I'm a session chair
Presenters: For guidelines and guidance talks and information on presenting in an online meeting, review AGU's presenter resources.
Conveners: Session chairs for oral session, elightning sessions, poster sessions can review guidance here.
How can I get daily updates or updated information on the meeting?
Update your AGU profile and look for daily highlights, summary and events on:
ABOUT AGU TV
We are excited to announce the return of AGU TV at the Fall Meeting 2020! AGU TV provides a unique platform to highlight the latest research and emerging trends within the fields of Earth and space science and engage people in these issues beyond the meeting.
Through a partnership with international film and broadcasting company WebsEdge, AGU TV will produce daily episodes throughout the conference. Each episode will feature:
Meeting News: AGU TV will film interviews featuring Fall Meeting presenters, capture session highlights, and hear attendee insights and reactions from around the meeting.
In-Depth Reports: Five-minute prerecorded documentary-style films will be shown, from universities, institutions, and organizations highlighting programs, case studies, and ongoing initiatives that are making a difference.
During Fall Meeting 2020, AGU TV episodes will be featured in our online meeting platform, as well as on the Fall Meeting website, YouTube, and other social media channels.