Registration is now closed.

All attendees, including presenters and conveners, must register for Fall Meeting in order to gain access to the virtual platform.
The meeting follows best practices for extended virtual meetings and global equity and inclusion. The schedule has been extended over 17 days with breaks and time blocks for live events for global engagement.
AGU is pleased to support Indigenous member students and faculty enrolled in or working for North American tribal and territorial colleges and universities to attend the 2020 Fall Meeting for a $0 registration fee.
During registration, select your specific institution. Any North American Indigenous student members who are part of bridge programs or other academic institutions as a student or faculty member can contact [email protected] for instructions on how to register for the $0 registration.
Please be sure to join as an AGU member prior to registering for the meeting.
Additionally, registration is free for those who are considered elders by their tribes or First Nations and membership is
not
required. Those interested should email an inquiry to
[email protected]
.
Attend on Your Time
Content for all sessions (recordings and posters) will be fully available during the time of the meeting starting on 1 December. Oral and eLightning sessions are designed for discussion and debate. They can be joined live, or listened to later on your time during the meeting. You won't miss out on any content this year!
Registration provides full access to:
1,800+ sessions and nearly 20,000 presentations

12+ innovative sessions and tracks on topics such as the science and impacts of COVID, science for society, exoplanets, and global environmental monitoring

Late-breaking sessions

Breakout rooms (pods) and ability to meet up, chat, have 1:1 or group conversations

Many other events, daily highlights, AGU Go TV, and more

Educational and professional development around communication, data management, public engagement, & more

All in a safe environment governed by a code of conduct and Safe AGU
To enable this meeting, #AGU20 will be bring together and integrate more than six separate technologies through a single-sign-on interface.
All attendees must create an AGU account to access the Fall Meeting 2020 registration site. To participate fully, please update your profile when you register.
Members of cooperating societies will be prompted for their cooperating membership society credentials during the registration process in order to obtain the member rate.
Registration Rates for 2020
Registration rates are about half of the regular "in-person" rates and are comparable to those of many other scholarly meetings taking place this fall. Registration will provide access to #AGU20 over 17 days, on your time. The registration rates also support global participation by offering reduced rates to undergraduate students, high school students, and scientists from low and middle income countries - the future of science. To qualify for AGU member rates, the attendee must have joined AGU or renewed their membership for 2020 by 30 October 2020.
Registration Type

Early bird rate

(by 30 October)

Regular rate

(after 30 October)

MEMBER






Regular: Full Meeting

$249

$299

Senior: Full Meeting

$100

$125

Student (Graduate Level): Full Meeting

$100

$125

Student (Undergraduate Level): Full Meeting

$0

$0

K-12 Teacher/Informal Educator: Full Meeting

$0

$0

NONMEMBER






Regular: Full Meeting

$350

$350

Student (Graduate Level): Full Meeting

$150

$150

Student (Undergraduate Level): Full Meeting

$25

$25






Regular: Full Meeting

$0

$0

Student (Graduate Level): Full Meeting

$0

$0

Student (Undergraduate Level): Full Meeting

$0

$0
*Member and Nonmember Rate
Ticketed Events
AGU Fall Meeting attendees may register for tickets to scientific workshops and section events. Additional registration fees may apply, with separate rates for students. Registration for these events is available in the registration portal. Workshop tickets can be purchased through 20 November. To login and add an event to an already existing registration, click here.
Attendee information and policies
Read through our information and policies related to attending #AGU20, including cooperating societies, registration receipts, cancellation and refund questions. We also encourage you to visit our
frequently asked questions
for more information.
Attendees from developing countries
Individuals who currently reside in developing countries are eligible to attend at a discounted rate. These countries are defined by the World Bank as low income (Tier 1) or lower-middle income (Tier 2) economies.
U.S. federal government employees
If you have not yet received government approval to attend #AGU20, early bird registration rates will be extended throughout the meeting to U.S. federal government employees only.
Cooperating societies
Members of the following cooperating societies can receive the member rate during registration.
LATINMAG: Asociacion Latinoamericana de Paleomagnetismo y Geomagnetismo

Advisory: Unauthorized Registration Companies
If you are contacted by any company other than Experient/Maritz Global Events offering registration for the AGU Fall Meeting 2020, please note that these companies are not authorized to represent AGU.
AGU and its authorized vendors DO NOT call members to sell registration. AGU, in accordance with our privacy policy, never shares or sells the information of our meeting attendees or members.
For more information or to report a company, contact the AGU Registration Center.
Code of Conduct
AGU is committed to providing a safe, productive, and welcoming environment for all meeting participants and AGU staff. All participants are expected to abide by the AGU Meetings Code of Conduct.
Know the code
Contact Experient/Maritz Global Events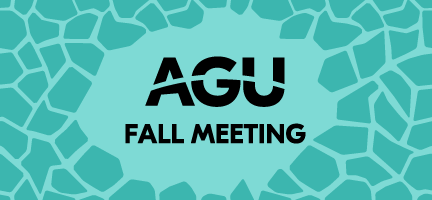 Maritz Global Events
Operating hours are 9:00 AM ET - 5:00 PM ET
847.996.5867 (Int'l) 800.650.6898 (US & Canada) | [email protected]