Fall Meeting 2019
Join us from 9 – 13 December 2019 in San Francisco and celebrate our Centennial.
Celebrate the past, inspire the future
As AGU marks its Centennial in 2019, we return to San Francisco, the home of the AGU Fall Meeting for more than 40 years. Join our diverse community at the newly renovated Moscone Center as we collaborate across borders and boundaries to explore and develop our research. Don't miss this once-in-a-lifetime opportunity to participate in Centennial presentations and special events that will bring to life the past, present and the future of our science.

Today we stand at the intersection of history and our future. Fall Meeting 2019 will prepare you for what's ahead: rapid developments in our science, new approaches to observing our Earth and beyond, the introduction of new data streams, growing demand for accessible science, the expansion of convergent science, and more. AGU will celebrate our past and inspire the future by bringing together the people, the imagination, and the science that will ignite our next hundred years to make our planet safer, cleaner, and more sustainable.
Register and join us at Fall Meeting 2019
Join us in San Francisco as we celebrate our Centennial and bring together our diverse community of Earth and space scientists.

Contact Spargo for assistance in registering at 703-449-6418 (International) or 866-470-7778 (within the United States).
Register
Fall Meeting 2019
9 – 13 December 2019
Fall Meeting is the largest international Earth and space science meeting in the world. After two dynamic meetings in New Orleans and Washington, D.C., we return to the Moscone Center in San Francisco to celebrate the past and inspire the future during our Centennial.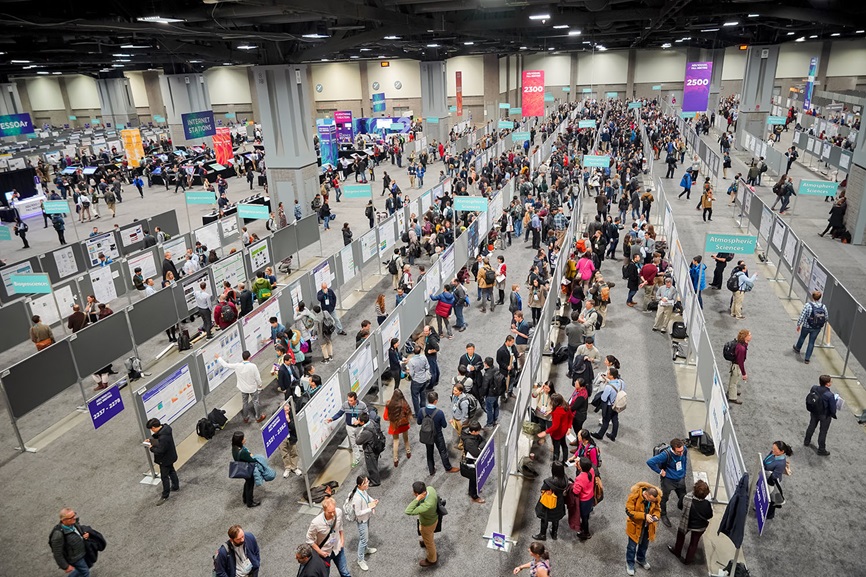 Important dates
July 2019
Abstract submissions close
August 2019
Fall Meeting Program Committee allocates and schedules sessions
Notes for conveners
At least one convener for each session (an AGU member) must be available to discuss mergers of sessions.
Early October 2019
Authors are notified of the acceptance, format, and schedule of their abstracts. The official scientific program is made available.
October 2019 through Fall Meeting
The final program is developed based upon withdrawals and presenter moves, if necessary.
November 2019
Early bird registration ends; ticketed events and the housing portal close
8 November 2019
Early bird registration and ticketed events close at 11:59 p.m. Eastern time.
15 November 2019
The housing portal closes at 11:59 p.m. Eastern time.
27 November 2019
Workshop and field trip ticket sales close at 11:59 p.m Eastern Time. No tickets will be sold onsite.
Search science from past meetings
Explore and discover scientific content from meetings 2014 - present.
Search now
Presidential Forum Speaker: Dr. Mae C. Jemison
Pursuing the Extraordinary
Monday, 9 December, 12:30-1:30 p.m.
Moscone North, Hall E, LL
AGU is proud to host Dr. Mae C. Jemison as our Presidential Forum speaker at Fall Meeting 2019. Jemison, the first woman of color in the world to go into space, served six years as a NASA astronaut. Aboard the Space Shuttle Endeavour, STS-47 Spacelab J mission in September 1992, she performed experiments in material science, life sciences and human adaptation to weightlessness.
Dr. Mae C. Jemison leads 100 Year Starship (100YSS), a bold, far reaching nonprofit initiative to assure the capabilities exist for human travel beyond our solar system to another star within the next 100 years. Jemison is building a multi-faceted global community to foster the cultural, scientific, social and technical commitment, support and financial framework to accomplish the 100YSS vision-An Inclusive, Audacious Journey (that) Transforms Life Here on Earth and Beyond.
Frontiers of Geophysics Lecture: Dr. Brent Tully
The Large-Scale Structure of the Universe
Tuesday, 10 December, 12:30-1:30 p.m.
Moscone North, Hall E, LL
Fall Meeting 2019 will feature Brent Tully as the Frontiers in Geophysics Lecturer. Tully grew up in Vancouver, Canada, receiving his undergraduate degree from the University of British Columbia and a doctorate in astronomy from the University of Maryland. He spent two postdoctoral years at Marseille Observatory, France, before joining the faculty at the University of Hawaii where he has remained for 44 years.
Cosmography was hardly a field when, with Richard Fisher in the 1970's, the pair appreciated that huge numbers of dwarf galaxies with large Hydrogen gas reservoirs could be detected with emergent radio telescope. Over four decades, Tully has maintained research involving the mapping of galaxy positions and motions. The effort has evolved into the Cosmicflows program of successively larger and more precise releases of galaxy distances, deviations from cosmic expansion, and implied structure in the distribution of (mostly dark) matter. This research has been recognized by several awards, most notably the Viktor Ambartsumian International Science Prize and the Gruber Cosmology Prize.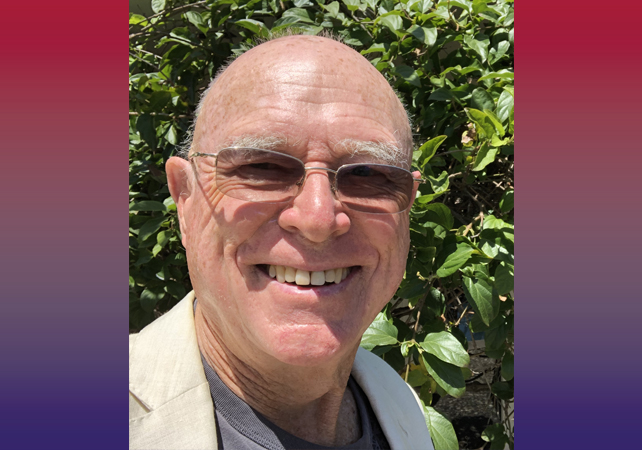 Governor Jerry Brown in Conversation with AGU Scientists: Protecting Earth's climate for the next 100 years
Wednesday, 11 December, 12:30-1:30 p.m.
Moscone North, Hall E, LL
Former California Governor Jerry Brown (and 2016 AGU keynote speaker) helped California become an international leader in climate change policy, establishing the most comprehensive and integrated climate action program in the Western Hemisphere. Governor Brown will join a panel of scientists led by AGU President and glaciologist Robin Bell, to discuss the science and politics of climate change and what needs to be done to protect Earth's climate for the future.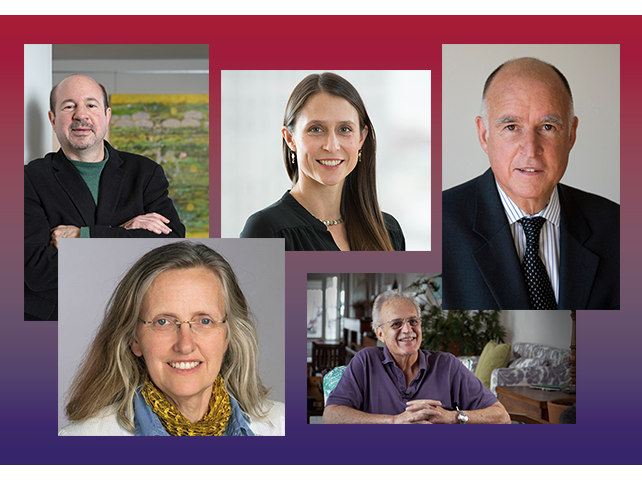 Mike Bloomberg to Speak at AGU Fall Meeting
Wednesday, 11 December, 2:00-3:00 p.m.
Moscone North, Hall E, LL
Mike Bloomberg and Jerry Brown will participate in an on-stage conversation about America's Pledge, which brings together private and public sector leaders to ensure the United States remains a global leader in reducing emissions and delivers the country's ambitious climate goals of the Paris Agreement. Bloomberg and Brown launched America's Pledge together in 2017.
AGU Executive Director and CEO Chris McEntee will join Bloomberg and Brown after their conversation in a fireside chat.
Livestream is available via AGU Go (registration required): agu.org/go or YouTube Live: www.youtube.com/user/AGUvideos.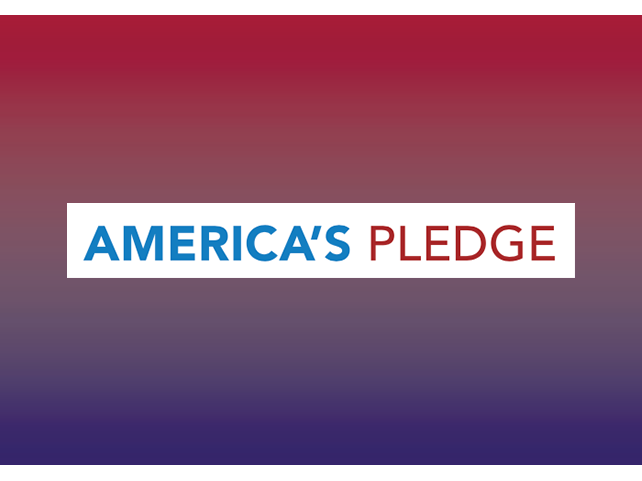 Agency Lecture: Dr. Kelvin Droegemeier
Thursday, 12 December, 12:30-1:30 p.m.
Moscone North, Hall E, LL
As Director of The White House Office of Science and Technology Policy (OSTP), Dr. Kelvin K. Droegemeier serves as President Donald J. Trump's science advisor and leads OSTP in its coordination of science and technology initiatives across the Federal Government. Kelvin's background is in extreme weather, numerical weather prediction, and data assimilation.

Read his full bio here.
Future Annual Meetings
Save the date and join us for our future Annual Meetings:
December 11-15, 2023 | San Francisco
December 9-13, 2024 | Washington, D.C.
December 15-19, 2025 | New Orleans
December 7-11, 2026 | San Francisco