AGU's Building: a Legacy and Commitment to Sustainability
Leading in sustainability at 2000 Florida Ave NW
In 2016, we officially embarked on a new building challenge when our Board approved a plan to renovate our existing building to target net zero energy, which would make AGU the first organization in the District of Columbia to renovate an existing commercial building to achieve that goal.
When we undertook this opportunity, we also wanted to retain the beloved character of our '94 building that visually represents the organization and our scientific disciplines. Not only that, but we wanted to create a space for our members and a conference center to welcome our community to join us in our net zero energy efforts.
Our building leads the way for Washington, D.C.'s sustainability plan to be the healthiest, greenest city in the U.S. by 2032, which includes reducing greenhouse gas emissions and energy use by 50 percent. In fact, in 2019, AGU was honored with the first Clean Energy DC Award from the Washington, D.C., Department of Energy and Environment.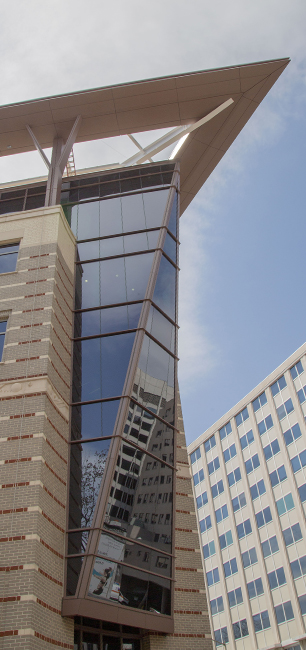 Our members, our science, our community
As a scientific society dedicated to working to ensure a sustainable future for us all, we wanted our building to emphasize and elevate our members' voices in the Earth and space sciences. We highlight members' work, scientific discoveries, and the building's energy savings through a new interactive public exhibit space. AGU's member lounge provides an informal work and gathering space for our members whether they live in the area or are visiting from out of town.
Our state-of-the-art conference center is available to rent and supports our net zero energy goals from facility design to operating standards, such as recycling, composting, and utilizing certified green caterers. We look forward to sharing best practices for commercial buildings, and other interested parties, looking to reduce their carbon and environmental footprint. We accept on-site tour requests to show you our net zero energy technology.