Sign up to receive AGU Weekly, a free e-newsletter delivered to your inbox every Thursday with the latest news, events and announcements from AGU and the broader Earth and space sciences community.
AGU Weekly in Your Inbox

Recent Issues of AGU Weekly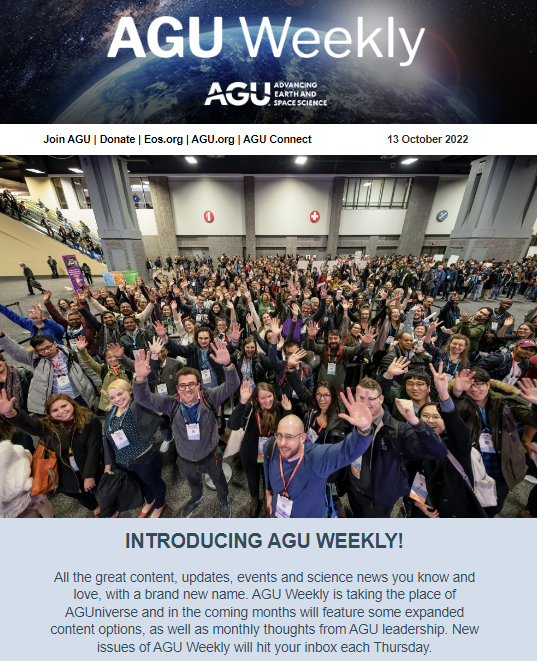 Contribute to AGU Weekly
AGU Weekly is an email newsletter sent on Thursdays to the current members of AGU, attendees of our Annual Meeting and those who sign-up via the website. This newsletter focuses on content and information that has direct ties to the organization, its publications and events.
Content featured in AGU Weekly must meet at least one of the following requirements:
Be a part of AGU programs
This includes content created by AGU departments such as Sharing Science, Thriving Earth Exchange, Meetings, Membership, Development, Public Affairs, Publications and the Executive Office.
Be hosted by AGU
AGU can be the main host or co-host of the event or partner with other organizations (e.g., Ocean Sciences Meeting).
Be sponsored by AGU
Events, workshops or other functions that is supported by AGU.
Feature an AGU leadership or staff member (e.g., AGU President).
AGU reserves the right to include/remove content at our discretion if it does not adhere to our mission, vision, values and/or strategic plan. Content placement in AGU Weekly is also subject to its editorial calendar and space availability.
A paid advertisement within one of AGU's publications or on an AGU website does not constitute AGU endorsement of a program, product, service, or company. AGU, in its sole discretion, reserves the right to decline any submitted advertisement or to discontinue publication of any advertisement previously accepted.
Any concerns related to job ad non-compliance should be made in writing to [email protected] for follow-up. When a formal review process is necessary, the process and timelines outlined in the publicly available AGU Ethics Policy roles and process for investigation will be used.