Policies
This is a collection of AGU policies surrounding the Fall Meeting. If you have any questions, please contact us at
[email protected]
.
Registration
Payments, transfers, & refunds
Early Bird
Early Bird registration must be accompanied by payment. Otherwise, it will not be processed, and the standard registration rates will apply. The deadline to register at the early bird rate is 2 November 2022.
---
Receipts
Payment receipts for registration from #AGU21 can be requested by emailing the AGU Registration Center. Registration receipts for #AGU22 are not available yet.
---
Payment Types
AGU accepts credit card, check and wire transfer payments. AGU does not process purchase orders for registration payments. To process group registration payments, contact the AGU Registration Center. The last day to submit payment via wire transfer or check is 1 December 2022.
---
Cancellation/Refund Policy
Written notifications must be emailed to the AGU Registration Center. Registration cancellation received by 8 November 2022 will receive complete refund.
Cancellations received between 9 and 16 November will have a $50 USD processing fee deducted from their refund. No refunds will be issued for cancelled registrations or ticketed events after 16 November 2022.
---
Registration Substitutions
Substitutions are allowed at any time but must be requested in writing by the original registrant and emailed to the AGU Registration Center. Partial substitutions are not allowed. Registrants must transfer their full registration to a new person. Member rates and promotional rates are not transferable from the original registrant to the substitute.
---
Registration Type Adjustment
Attendees will have the opportunity to adjust their registration type from in-person to online (or vice versa). Please contact the AGU Registration Center for assistance with adjusting your registration type. The deadline to make this adjustment is 7 December 2022. Please note, this change does not impact in-person or online presentation format.
---
Group Registrations
To process payment for multiple registrations, please contact the AGU Registration Center.
Attendee Types
Media Registration
The AGU Media Relations Office provides complimentary registration to working members of the press for the express purpose of gathering news and information to produce media coverage of AGU meetings.
Press access to the meeting is issued at the discretion of the AGU Media Relations Office and is non-transferable. All registrants must provide credentials regardless of whether they have attended past AGU meetings. If you have questions about these requirements, please contact AGU Media Relations.
---
US Federal Government Employees
If you have not yet received government approval to attend #AGU22, early bird registration rates will be extended throughout the meeting to U.S. federal government employees only.
---
Affiliated societies and organizations
If you are not a current member of AGU, but you are a member of one of the affiliated societies, you may register at the member rate.
---
Caregivers
AGU welcomes those who assist others in need during the Fall Meeting. Caregiver are individuals who are at the meeting to assist with childcare or those with ADA needs. Individuals may register for free at any registration counter on-site; valid identification is required. As a reminder, only fully vaccinated people may attend #AGU22 in-person in Chicago. If you are not fully vaccinated (two weeks after the last required shot), please plan to attend online.
---
AGU Members
AGU members receive a discounted rate. You may join AGU as a 2022 member for the discounted membership rate until 3 November.
---
Guests
Registered attendees may purchase guest passes at $160 USD each. Registered guests may not attend the oral or poster scientific sessions; however, they may visit the Exhibit Hall, and attend the Ice Breaker, Honors Ceremony, and all keynote lectures. Guests may also purchase tickets to social events at the advertised rates.
A guest is a spouse, friend, or adult child (18 years and older) who is not working in an Earth and space science-related occupation or field.
A colleague or associate working in a related scientific field or studying Earth and space science may not attend as a guest.
Privacy & Security
Attendee Data
AGU is committed to protecting your privacy, and we honor your right to make choices about the information you share with us. AGU requests information from those who engage with us to complete business processes such as meeting registration, to improve the communication and sharing of science, to improve programs and websites, and to serve the interests of members, authors, meeting attendees, and others by providing them with relevant information.
We are committed to providing an explanation of what information is required and what is optional, as well as how that information is being used.
AGU does not sell meeting attendee or member contact information.
It has been brought to our attention that some individuals and organizations have been contacted with offers of lists for purchase. These offers are not affiliated with AGU in any way and are unauthorized. We thank our exhibitors for reporting this issue to us. If you receive or know of an email containing such an offer, we ask that you please alert us by email.
Code of Conduct
Meetings Code of Conduct
AGU is committed to providing a safe, productive, and welcoming environment for all meeting participants and AGU staff. All participants are expected to abide by the AGU Meetings Code of Conduct.
AGU SCIENTIFIC INTEGRITY & PROFESSIONAL ETHICS POLICY
AGU members and authors of AGU publications must adhere to the AGU Scientific Integrity and Professional Ethics Policy.
Author Policies
If you have any questions, please contact us at [email protected].
AGU Membership
First authors, including invited authors, must currently belong to either AGU or an affiliated society/organization.
NOTE: Under certain circumstances, special membership exceptions may be requested for invited authors who are non-geoscientists. If the first author or invited author is not a current AGU member but is a member of an affiliated society/organization, or is a non-geoscientist, please complete this form by 20 July.
First Author Policy
In general:
First authors can submit up to two contributed abstracts (i.e., non-invited abstracts), as long as the second abstract is submitted to a session led by a different section from the first abstract.
Invited authors can submit up to three abstracts, including one contributed, as long as one is submitted to a session led by a different section.
* Please note, authors may submit a second abstract to a session within the same section if it is listed as co-organized with a different section. Please see full abstract guidelines here.
Invited Author Policy
Up to two authors can be invited to submit abstracts to a session.
Invited authors will receive an invitation email from the abstract management platform, via the session convener, containing the link needed to initiate an invited abstract submission.
Abstract fee Policy
The abstract submission fee is:
A required and non-refundable processing fee.
Separate from membership dues and meeting registration fees.
Not based on approval of your abstract submission or attendance at the meeting.
The abstract submission fees are:
Regular submission — $70
Student submission — $40
Exception: There are no abstract submission fees for individuals residing in qualifying low-income or lower-middle income countries, as defined by the World Bank.
CONVENERS SUBMITTING ABSTRACTS
Session conveners may not be the first author or presenting author on an invited abstract in the session they are convening. Conveners can be invited authors in other sessions, but not in their own sessions.
Conveners may submit a contributed abstract to a session they are convening; however, they must be scheduled as a poster presentation. Union, student and early career conveners are exempt from this rule and may schedule oral presentations in their own session.
The recommended deadline for conveners to invite authors is 20 July 2022 so that authors have enough time to accept the invite, prepare and submit the abstract. Conveners will have access to the invitation tool until the abstract submission deadline, but we strongly encourage them to issue invitations as soon as possible.
Reminder: Conveners who submit abstracts must pay all fees associated with attending the meeting, including membership fees, abstract submission fees and online or in-person meeting registration (if serving as the presenting author). Conveners who serve as session chairs must pay the online or in-person meeting registration fee to attend. Conveners who are not attending the meeting do not need to pay the meeting registration fee.
AGU Ethics Policy
Download and review a PDF copy of the AGU Scientific Integrity and Professional Ethics Policy.
Abstract and Session Submission
Abstract Submission
Abstract submission is now closed. If you would like more information about the policies and processes for submitting an abstract, please visit the abstract submission page.
Session Submission
Session submission is now closed. If you would like more information about the policies and processes for submitting a session proposal, please visit the session submission page.
SAFE AGU
WHAT IS SAFE AGU?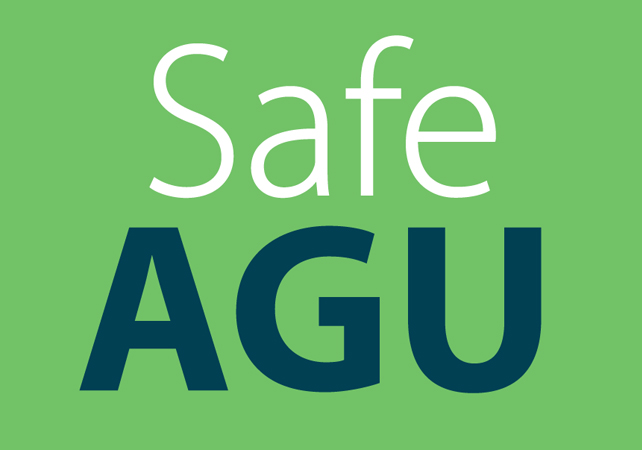 AGU is committed to promoting a safe work environment in the Earth and space sciences and ensuring that all AGU program activities are free from discrimination, bias or harassment of any type. One way we do that is through our Safe AGU program at AGU meetings, which includes workshops for attendees. The Safe AGU program was designed to promote safety and offer support to meeting attendees who may feel harassed, threatened, or unsafe in any way when participating in AGU meetings.
Volunteers and staff at AGU events wearing Safe AGU buttons have been trained to assist those who experience unsafe or inappropriate behavior at Fall Meeting. In many cases, AGU works with co-sponsoring organizations to deploy similar programs, for example, Safe OSM at the Ocean Sciences Meeting, at jointly organized meetings.
Need help?
Individuals with potential safety or misconduct concerns – including situations that may not rise to the level of an ethics complaint – can reach out to AGU Ethics for assistance. Inquiries are confidential.
Consequences and reporting unacceptable behavior
Anyone requested to stop unacceptable behavior is expected to comply immediately. Anyone violating the Code of Conduct may be removed from the current meeting. Egregious behavior may result in bans from future AGU meetings or other sanctions, depending on the specifics, as set forth in our Scientific Integrity and Professional Ethics Policy, as applicable.
As part of registration for an AGU event, all attendees are expected to provide their true professional name and primary affiliation and contact information including an email address and phone number.