In-Person
Chicago is thrilled to welcome AGU Fall Meeting for the first time!
Know Before You Go
We welcome you to AGU Fall Meeting 2022, taking place in Chicago 12-16 December. To help you prepare, we've put together this quick reference guide. For more details, visit the AGU website and mobile app, where you'll find the event schedule, speakers, health and safety procedures, transportation and accessibility policies.
Before the Meeting
Build Your Schedule
View the latest program schedule of keynotes, innovations, Union sessions, named lectures and oral and poster sessions to build your personal schedule. If you have started a schedule in Confex, it will sync with the AGU Events mobile app. (Make sure you use the same email address as you did for registration.)
COVID-19 & General Safety Procedures
American Geophysical Union (AGU) is committed to providing a safe and healthy environment for all Fall Meeting participants and staff. Please review our safety plans and ensure that you have secured your SafeAccess health check prior to arrival.
SafeAccess Health Check
Attendees will receive an email invitation to SafeAccess from

[email protected]

. Please sort through your Junk folder if you have not received this message in your Inbox and whitelist this address.
Click the link in the invitation and create a password.
Click on the Event Logo on your screen.
Begin the Pre-screening check-in process.
Once completed, you will receive a yellow pending message. When the SafeAccess Trusted Reviewer has completed the review of your documentation, your status will change to green if you are approved.
For more information on the SafeAccess Trusted Reviewer and Health Verification process and what to expect when you arrive, please visit our website. Below is the email users receive when they complete their check-in. You can show this email on-site as proof of status, or you can log into SafeAccess from your mobile device and tap on "Status" to see your badge.
Additional resources:
What to Pack
Headphones so you can check out online content while attending in person.
Water bottle for use at one of the filling stations in McCormick Place Convention Center.
Professional clothes for a professional photo in our Headshot Lounge.
Comfortable shoes.
Venue Locations
McCormick Place, South Building
2301 S King Dr, Chicago, IL 60616
Marriott Marquis Chicago
2121 S Prairie Ave, Chicago, IL 60616
Hyatt Regency McCormick Place
2233 S Martin Luther King Dr, Chicago, IL 60616
Time Zone
Chicago, IL is on Central Standard Time (CST), which is 1 hour behind Eastern Standard Time (EST — New York) and 2 hours ahead of Pacific Time (PST — California).
Weather
The weather in Chicago in December is cold, with average temperatures between 28°F (-2.22 Celsius) and 37°F (2.77 Celsius). Chicago gets about 3 to 8 days of rain in December.
Ground Transportation
The city of Chicago offers a variety of transportation options and is serviced by 2 major airports: O'Hare International Airport and Midway International. Public transportation, Uber, taxis and car rentals are available from Midway and O'Hare. Chicago utilizes an expansive rail system, Metra, that services the city. Schedules and locations are listed here.
---
Using a mobile device? Download the app.
Search for AGU Events in the Apple Store or Google Play.
Make sure your device is running iOS Version 15+ or Android Version 9+. Note that some Android devices with limited memory are not supported (e.g., Moto G4 & Moto G5).
Log in with the same email address and password you used to register for AGU22.
---
Using a computer? Set up a bookmark.
Bookmark the #AGU22 website and click on the link to enter the online meeting platform.
Use Chrome or Safari for the best viewing experience.
Turn off any ad or pop-up blockers (which might incorrectly block event-related content or functionality).
Log in with the same email address and password you used to register for AGU22.
---
Download and test Zoom in advance.
All online and hybrid sessions and events will take place in Zoom. We recommend you download and install the latest version of Zoom in advance and familiarize yourself with it. You can also go to https://zoom.us/test at any time to test your audio and video.
WHEN YOU ARRIVE
Registration and Badge Pick-Up
Due to safety precautions, each registrant and guest will need to provide their health check identification upon entry into McCormick Place and prior to name badge pick up. AGU requires all attendees, guests and caretakers attending Fall Meeting to visit the registration desk to collect their name badge and other conference materials. We have outlined specific guidelines for all attendee types on how to navigate on-site registration.
Attendees who are pre-registered and have received their SafeAccess verification approval can pick up their badge and event credentials at any registration location.
McCormick Place Convention Center:
11 December 12:00pm-6:00 pm (18:00)
12 December 6:30am-6:30pm (18:30)
13 December 7:00am-6:00pm (18:00)
14 December 7:30am-7:00pm (19:00)
15 December 7:30am-6:00pm (18:00)
16 December 7:30am-5:00pm (17:00)
Sheraton Grand Chicago Riverwalk:
11 December 12:00pm-8:00pm (20:00)
12 December 6:30am-12:00pm
AGU Central
Visit AGU Central, the hub of all Fall Meeting activities. Learn about AGU's year-round services, discover mentoring and career services in the Career Center, relax and recharge in the Wellness Zone, Sketch Your Science, network in the Braindate Lounge, play some games, shop at the AGU store or pose for a photo next to our photo wall.
Monday – Thursday 8:00am-6:00pm (18:00)
Friday 8:00am-2:00pm (14:00)
Exhibit Hall Hours
Visit interactive exhibits, broaden your knowledge base, learn about new products and services or network with vendors and colleagues.
12 December 3:00pm (15:00)-6:00pm (18:00)
13 December 10:00am-6:00pm (18:00)
14 December 10:00am-6:00pm (18:00)
15 December 10:00am-1:00pm (13:00)
Mobile App
Need assistance? Visit the Mobile App Help Desk, located in the Registration area in Hall A of McCormick Place.
Sunday, 11 December, 12:00pm-6:00pm (18:00)
Monday, 12 December, 8:00am-6:00pm (18:00)
Tuesday, 13 December, 8:00am-1:00pm (13:00)
Poster Hall
Set up your poster between 7:30am and 9am on the day of your presentation (no earlier).
IN-PERSON POSTER SESSIONS
12-16 DECEMBER
9am-12:30pm
2:45pm (14:45)-6:15pm (18:15)
Posters must be removed by 6:45pm (18:45). Crystal Clear Imaging is the official Poster Printer for the AGU Fall Meeting 2022. You can find their poster pick-up booth in Hall B at McCormick Place Convention Center. Poster pick-up hours are available here.
Networking & Special Features
AGU Fall Meeting will offer a wide array of opportunities to help in-person participants connect with colleagues and create valuable memories with activities like Braindates, the Relax and Recharge Wellness Zone, field trips, receptions, a community poem, museum excursions, in-person and online art exhibits and AGU Central.
Accessibility Needs
View our accessibility page for information on how to access services, or visit the Meeting Services desk at the registration desk in Hall A, South Building.
Thank you to our event sponsors.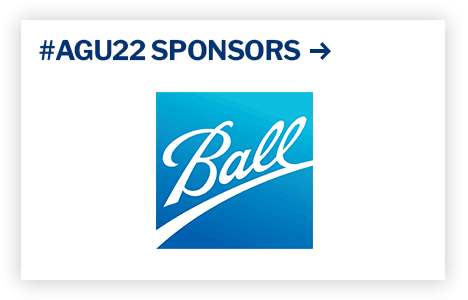 CONTACT US IF YOU NEED HELP
We're here to help! On-site? Ask for assistance directly from technical support staff in the session rooms, an AGU staff person, Meeting Services or the Poster Hall Assistance Desk, or connect with us online with any questions.
We look forward to hosting you in Chicago!
Housing
Housing is now open until November 15. You can reserve housing for the meeting and register if you plan to attend in person.
ADVISORY: MARITZ IS THE ONLY AUTHORIZED HOUSING COMPANY
AGU does not sell your information. If you are contracted by any company other than Maritz Global Events (MGE) offering housing in Chicago, these companies do NOT represent AGU.
AGU and its authorized vendors DO NOT call attendees to sell hotel rooms. AGU, in accordance with our privacy policy, never shares or sells the information of our meeting attendees or members.
Please report any unauthorized companies by emailing the AGU Housing Center.
HOTEL RATES
All rates are per night, in U.S. dollars, and exclude taxes. These are the starting prices. Hotels offering U.S. government per diem rates are indicated below with an asterisk (*); a valid U.S. government identification document is required at hotel check-in. Please note that the U.S. government rate is subject to change in October.
Hotels
LESS THAN 3 MILES FROM THE CENTER
HAMPTON INN MCCORMICK*
SOLD OUT
123 E Cermak Rd
1 Mile from the Center
$179 (Single)
$189 (Double)
HILTON GARDEN INN CHICAGO MCCORMICK PLACE*
SOLD OUT
123 E Cermak Rd
1 Mile from the Center
$179 (Single)
$189 (Double)
HYATT REGENCY MCCORMICK PLACE*
SOLD OUT
2233 S Martin Luther King Dr
1 Mile from the Center
$189 (Single)
$209 (Double)
MARRIOTT MARQUIS CHICAGO*
SOLD OUT
2121 S Prairie Ave
1.5 Miles from the Center
$199 (Single)
$219 (Double)
BEST WESTERN GRANT PARK HOTEL*
SOLD OUT
1100 S Michigan Ave
1.8 Miles from the Center
$103 (Single)
$113 (Double)
HILTON CHICAGO*
SOLD OUT
720 S Michigan Ave
2.3 Miles from the Center
$159 (Single)
$169 (Double)
BLACKSTONE, AUTOGRAPH COLLECTION*
SOLD OUT
636 S Michigan Ave
2.4 Miles from the Center
$165 (Single)
$185 (Double)
CONGRESS PLAZA HOTEL*
SOLD OUT
520 S Michigan Ave
2.4 Miles from the Center
$103 (Single)
$I13 (Double)
HOTELS
MORE THAN 3 MILES FROM THE CENTER
PALMER HOUSE A HILTON HOTEL*
17 E Monroe St
3 Miles from the Center
$159 (Single)
$169 (Double)
HOTEL JULIAN*
SOLD OUT
168 North Michigan Ave
3.1 Miles from the Center
$109 (Single)
$119 (Double)
SHERATON GRAND CHICAGO*
301 E North Water St
3.2 Miles from the Center
$149 (Single)
$169 (Double)
STAYPINEAPPLE, AN ICONIC HOTEL, THE LOOP CHICAGO*
SOLD OUT
1 W Washington St
3.2 Miles from the Center
$120 (Single)
$140 (Double)
HYATT REGENCY CHICAGO*
151 E Wacker Dr
3.4 Miles from the Center
$149 (Single)
$159 (Double)
SWISSOTEL CHICAGO*
SOLD OUT
323 E Wacker Dr
3.4 Miles from the Center
$139 (Single)
$I59(Double)
CHICAGO MARRIOTT DOWNTOVWN MAGNIFICENT MILE*
165 E Ontario St
3.6 Miles from the Center
$149 (Single)
$169 (Double)
FAIRMONT CHICAGO MILLENNIUM PARK*
SOLD OUT
200 N Columbus Dr
3.6 Miles from the Center
$149 (Single)
$179 (Double)
Travel
Airport
Chicago O'Hare International Airport (ORD) is approximately 17 miles from downtown Chicago and the McCormick Place Convention Center. ORD has service from more than 50 different airlines, national and international.
Chicago Midway International Airport (MDW) is approximately 7.7 miles away from downtown Chicago and the McCormick Place Convention Center. While MDW is closer, it only offers services from 7 different airlines.
Chicago airports are offering a 10% discount to #AGU22 attendees for concession purchases at the airport.
---
Train
Amtrak offers an energy efficient travel option to Chicago. Amtrak trains are accessible from a number of cities across the country.
---
Bus
Traveling by bus to and from Chicago is easy with an array of options.
---
Car
If you plan to drive to Chicago, the convention Center provides information on a number of nearby parking garages.
Travel Discounts
United Airlines
AGU has partnered with United Airlines to offer discounts on air travel to #AGU22. Discounts are applicable for travel dates 9 December through 19 December 2022 via Chicago O'Hare International Airport (ORD). Visit the United website and enter ZMAK596856 in the Promotions and Certificates box after you have input your travel information. The discount will be applied at the time of ticketing.
Visa & International Travel
We recommend that international participants apply for visas three months prior to #AGU22 (roughly 1 October 2022). We also strongly suggest familiarizing yourself with our webpage for the latest updates on COVID-19 protocols.
Some consulates may have delays in scheduling visa interviews. We encourage you to first contact the consulate to determine the wait time for an interview. If you require a letter of invitation before submitting an abstract or you will not be submitting an abstract, you must request one via email. After submitting an abstract, you can automatically generate a letter of invitation through the abstract submission system.
Housing/Travel Package Deal for International Attendees
FHT Global
AGU has partnered with FHT global, our official international hotel & travel services agency. FHT global has a variety of options available for groups to design travel around their needs — from hotels and breakfast vouchers to airfare and city tours, FHT global provides numerous options and customizable packages to meet your needs.
U.S. Government Requirement for Visa Waiver Program
Effective 20 January 2011, citizens of the Visa Waiver Program (VWP) countries will be unable to enter the United States without Electronic System for Travel Authorization (ESTA) approval from the U.S. Government. VWP travelers who have not obtained approval through ESTA will be denied boarding on any air carrier destined for the United States.
Business Visa Center
The U.S. Department of State offers resources and information to assist foreign nationals traveling to the U.S. for temporary business.
---
VISA Waiver Program
Review the requirements to participate in the Visa Waiver Program, which allows citizens meeting specific requirements to enter the U.S. for 90 days without a visa.
---
U.S. Department of State
Comprehensive information about traveling to the United States, and the policies and procedures for obtaining a visa.
Health and Safety
The health and safety of our attendees is top of mind for AGU, and we are committed to making AGU22 as safe as possible. We are monitoring the COVID-19 pandemic and following CDC guidelines as they are released.
The AGU22 Fall Meeting in Chicago will require attendees to reach a fully vaccinated status as noted by the CDC. This means:
A two-dose series of Pfizer or Moderna, one dose of Johnson and Johnson, for US Citizens
Required series of doses for non-US residents based on the WHO approved vaccination list from:
AGU will not require boosters at this time is due to the varying recommendations for those over 50 along with varying international guidance.
SafeAccess
SafeAccess, a third-party vendor, will be managing the collection of vaccination information prior to and on-site in Chicago. Any information collected by SafeAccess will remain private and will not be released to AGU or another third party.
Attendees in need will have the ability to request a medical or religious exemption, which will include providing documentation from a medical professional or member of their clergy. We ask that you download the exemption form, complete the information requested and upload this form along with support documentation into the SafeAccess system prior to arrival. You will be asked to provide a negative PCR test result within 48 hours of your scheduled travel date when you check in at the SafeAccess desk at Fall Meeting.
To explain onsite registration expectations for #AGU22 we have created a journey map for those who are:
Fully vaccinated
Requesting medical or religious exemptions
Bringing children

Please note: Children 6 months and older who are appropriately vaccinated for their age will be able to attend the meeting, but please note that we are still not able to offer on-site childcare this year.

Honors Only Banquet Attendees
Special Guests
Unregistered attendees
At this time, AGU highly recommends that masks be worn at all official indoor events to reduce the risk of transmission and illness related to the virus. A masking requirement may be implemented as we monitor recommendations from health officials and conditions as the meeting date approaches.
Local Emergency Locations
The McCormick Place Convention Center has provided a list of nearby hospitals, pharmacies, COVID-19 testing sites, and other additional emergency contact locations.