In-Person
San Francisco is thrilled to welcome AGU back to where it all began!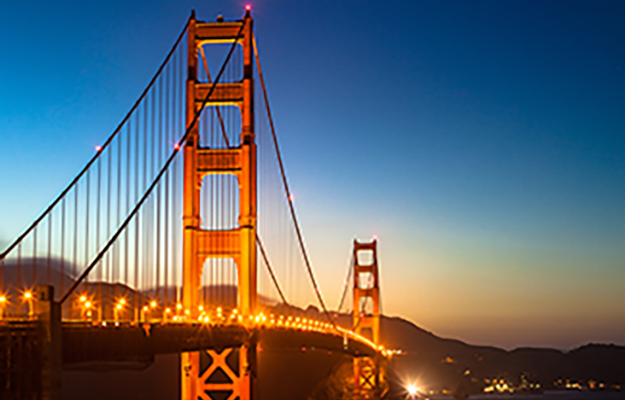 Housing
Housing for AGU23 will open 22 August and will close 15 November (23:59 EDT/03:59 +1 GMT). At that time, you will be able to reserve housing and register for the meeting if you plan to attend in person. All attendees must create an AGU account to access the housing and registration site once available.
Hotel Rates
All rates per night are in U.S. dollars and excludes taxes and fees. These are starting prices. Hotels offering U.S. government per diem rates are indicated below. A valid U.S. government identification document is required at hotel check-in. Please note that the U.S. government rate is subject to change in October.
Review the AGU23 Official Hotels
Review the Government Per Diem Rates
Advisory: Maritz is the only authorized housing company

AGU does not sell your information. If you are contracted by any company other than Maritz Global Events (MGE) offering housing in San Francisco, these companies do NOT represent AGU.
AGU and its authorized vendors DO NOT call attendees to sell hotel rooms. AGU, in accordance with our privacy policy, never shares or sells the information of our meeting attendees or members.
Please report any unauthorized companies by email to the AGU Housing Center.
Contact Maritz Global Events
Need further assistance with your housing or meeting registration? Contact Maritz Global Events.
Maritz Customer Service
Operating Hours: 9:00 AM - 5:00 PM ET
864.208.2475
[email protected]
Travel
As a major metropolitan area there are many options for traveling to San Francisco for AGU23. San Francisco is served by two major airports which offer multiple U.S. and international flights daily, a train station, and the Bay Area Rapid Transit (BART) public transportation system. Explore different travel options and directions for getting to the meeting.
Airport
Oakland International Airport (OAK) is 20 miles from downtown San Francisco and the Moscone Convention Center. OAK has service from 13 different airlines combined for 30 nonstop flights nationally and internationally.
San Francisco International Airport (SFO) is the closest airport to San Francisco and the Moscone Convention Center. It is one of the 30 busiest airports in the country, with service from more than 45 airlines, national and international, and nonstop connections to more than 65 U.S. cities.
---
Train
Amtrak offers an energy efficient travel option to San Francisco. Amtrak trains are accessible from a number of cities across the US.
---
Bus
Traveling by bus to and from San Francisco is easy with an array of options.
---
Car
If you plan to drive to San Francisco, the convention center provides information on two major nearby parking garages.
Moscone Center Garage
255 3rd Street
San Francisco, CA 94103
Monday – Sunday 6:00 AM – 10:00 PM
Museum Parc Garage
300 3rd Street
San Francisco, CA 94107
Monday – Friday 5:30 AM – 11:00 PM
---
Bay Area Rapid Transit (BART)
AGU has partnered with BART to support our sustainability efforts while in San Francisco. Taking BAST's all-electric rail trains from SFO or OAK airports keeps 20.2 lbs of carbon per round trip out of the air. BART is the fast, easy, low-cost way to get to downtown San Francisco in 30 minutes.
Plan your trip with the Trip Planner
Download the Clipper app to pay for BART fare Apply Pay or Google Pay
Travel Discounts
United Airlines
AGU has partnered with United Airlines to offer discounts on air travel to AGU23. Discounts are applicable for travel dates 8 December through 18 December 2023. Visit the United website and enter ZNJE261146 in the Promotions and Certificates box after you have input your travel information. The discount will be applied at the time of ticketing.
Visa & International Travel
We recommend that international participants apply for visas three months prior to AGU23 (roughly 1 October 2023). Some consulates may have delays in scheduling visa interviews. We encourage you to first contact the consulate to determine the wait time for an interview. If you require a letter of invitation before submitting an abstract or you will not be submitting an abstract, you must request one via email. After submitting an abstract, you can automatically generate a letter of invitation through the abstract submission system.
---
Housing/Travel Package Deal for International Attendees
FHTglobal, in partnership with Maritz, the official housing agency of AGU, is here to support international guests and groups with complete travel services through customized packages designed based on your needs. All rooms are part of the official housing blocks of AGU. Package options include hotel breakfast, airport transfers, porterage, registration support, as well as local services like dinners, tours and much more. For more information on FHTglobal's concierge service for AGU participants, please visit our website.
---
U.S. Government Requirement for Visa Waiver Program
Effective 20 January 2011, citizens of the Visa Waiver Program (VWP) countries will be unable to enter the United States without Electronic System for Travel Authorization (ESTA) approval from the U.S. Government. VWP travelers who have not obtained approval through ESTA will be denied boarding on any carrier destined for the United States.
---
Business Visa Center
The U.S. Department of State offers resources and information to assist foreign nationals traveling to the U.S. for temporary business.
Visit the Business Visa Center
---
Visa Waiver Program
Review the requirements to participate in the Visa Waiver Program, which allows citizens meeting specific requirements to enter the U.S. for 90-days without a visa.
Learn more about the Visa Waiver Program
---
U.S. Department of State
Comprehensive information about traveling to the United States, and the policies and procedures for obtaining a visa.
Health & Safety
American Geophysical Union (AGU) is committed to providing a safe and healthy environment for all Fall Meeting participants and staff. We continue to monitor health and safety issues such as the COVID-19 pandemic and follow CDC guidelines as they are released.
AGU strongly encourages all attendees to be up-to-date on all vaccinations. AGU will not require the validation of vaccine information via a third party. However, we will reconsider this requirement if conditions and guidance from health professionals change.
Masking requirements will be assessed near the meeting dates and will be available onsite for any attendee who needs them.